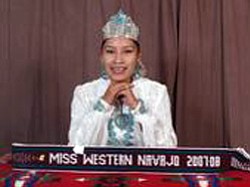 Originally Published: September 16, 2008 12:43 p.m.
Ya'at'eeh, my name is Crystal Carr. I am the reigning Miss Western Navajo 2007-2008. I am Rockgap, born for Deer Spring. My maternal clan is Manygoats. My paternal clan is of the Tangle people. I was born and raised in Tuba City, Ariz. I currently reside in Flagstaff, Ariz. and am majoring in Mathematics, with a minor in Applied Indigenous Studies. I am currently a junior at Northern Arizona University.
Having a passion for bettering the lives of our Navajo youth, I served as your Western Navajo Nation princess. I traveled as far as Honolulu, Hawaii to represent our peoples' good faith and cherished philosophy. Today I am proud to say I represented my people well, but I am also sad to say that my reign as Miss Western Navajo has to end. However I will not stop speaking for my people.
I will be passing on my crown to another young Navajo woman on Sept. 20 at the Tuba City Community Center. The pageant will commence at 5pm (D.S.T). I wish the best of luck to all the lucky contestants and encourage them to take this opportunity to be a good role model, to stand as Navajo women have always stood, and to come and help your people express pride for our way of life. As the elders, and many successful entities say: "T'aa Aho Ajit'eego-Just do it!"
Ahe'hee,
Crystal J. Carr
Miss Western Navajo 2007-2008