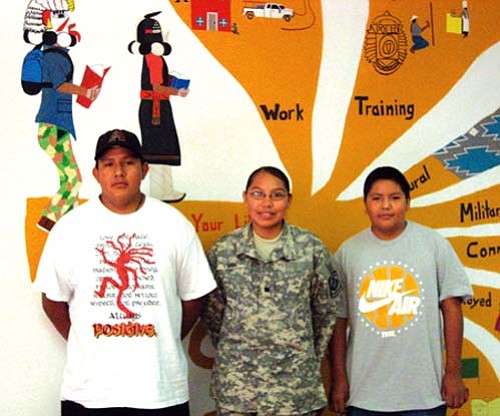 Originally Published: September 3, 2008 10:32 a.m.
POLACCA, Ariz. - Three art students from Hopi Jr./Sr High School won awards at the prestigious Santa Fe Indian Market.
Amber Naha won first place in the pottery division for youth. Cheston Huma took home second place in the miscellaneous division for those 12 and younger. Briar Huma, Cheston's older brother, finished third in the jewelry division for youth based on his clay pendants.
Naha, a 16-year-old junior, said she was happy about winning first place because her pottery was based on her grandmother's design. Her grandmother is Helen Naha, also known as Featherwoman in the art world.
The younger Naha appears to be carrying on the family tradition as she won with traditional whiteware pottery. Her mom is the renowned potter Rainy Naha.
Amber also beads and weaves. She said the pottery takes her two to five weeks to make depending on the design and size. Her next project will be preparing art for the Heard Museum. She is active in Hopi High's Junior Reserve Officer Training Corps program with the drill team and Raiders team.
Amber said art is a hobby for her as she plans to either go into the military or become a veterinarian.
Cheston Huma, a 12-year-old seventh grader, said he was happy to take home an award because it was the first time he won an award at a show. He won for carving a kachina doll. He learned the craft from his father Bryson Huma. His next project will be carving more kachina dolls.
Cheston plays football and baseball. For him, art is also a hobby as he wants to become a carpenter.
Briar Huma, a 15-year-old sophomore, said he was also proud about winning an art award for the first time. He likes doing pottery and he learned the craft from his mother Gloria Mahle. He also likes to carve kachinas.
His next project will be making a large medallion out of pottery. He plays football and baseball for Hopi High.
After he graduates, he wants to either go into carpentry or go on to college.
Mahle said she is proud of both of her son's accomplishments.