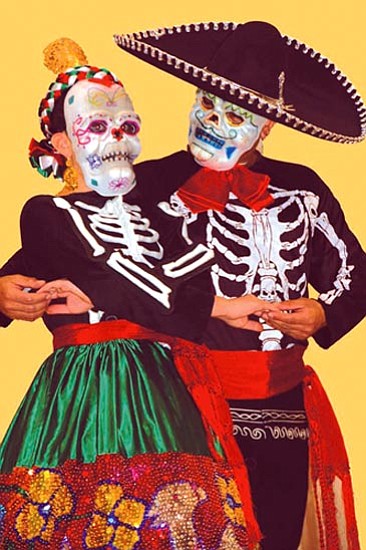 Originally Published: October 21, 2008 11:13 a.m.
FLAGSTAFF, Ariz. - Storytelling and musical talents express a spirit of cultural connection at the Museum of Northern Arizona's 5th Annual Celebraciones de la Gente, to be held Saturday and Sunday from 9 a.m. to 5 p.m. This lively Flagstaff celebration of Dia de los Muertos is produced in partnership by Nuestras Raices and offers Latin American indigenous and folk music, documentary filmmaking, Aztec stories, mask making, ballet folklorico, family altars, and graffiti mural art by local artists.
"This is an opportunity to immerse oneself in the Spanish speaking cultures of the Americas and to experience their glory, color, and excitement," stated MNA Director Robert Breunig. "Universal themes such as life and death are explored at this annual Flagstaff celebration of Day of the Dead. I hope many new visitors to this festival and to the Museum will take advantage of this occasion."
"Lectures, demonstrations, film, and performance come together on this weekend to communicate Hispanic/Latino worldview, philosophy, and artistic expressions," stated Heritage Program Coordinator Anne Doyle.
Dia de los Muertos or Day of the Dead
This holiday may have originated in Mexico from the Olmecs as many as 3,000 years ago and been passed to other cultures such as the Toltecs, Maya, Zapotec, and Aztec. The continuity of life and memories of ancestors are celebrated and invitations are made to departed souls to return. This is not a time of mourning. Instead, candles and marigolds, sugar skulls and colorful paper banners, and dancing and music all warm the heart.
Cuentos y Historias-Stories and Histories to Create Cultural Understandings
A documentary film premiere of Two Cultures, One Challenge depicts former Arizona Governor Raul Castro's life as a lawyer, judge, ambassador and governor. Governor Castro is in town to lead the NAU Homecoming Parade and will attend Saturday's showing at 3 p.m. (the film will also show on Sunday at 1 p.m.) to introduce the film and lead a question and answer session.
Born in Mexico, Castro became a U.S. citizen, graduated from Arizona State Teachers College (now Northern Arizona University), attended the University of Arizona Law College, and was admitted to the Arizona Bar in 1949. He served as ambassador to El Salvador and Bolivia, became Arizona's first and only Mexican-American governor in 1974, and later was chosen as ambassador to Argentina. MNA has partnered with the Raul H. Castro Institute on Hispanic Public Policy and Northern Arizona University's School of Social and Behavioral Sciences to bring Castro to the festival.
Michael Heralda, musician, poet, artist, and creator of the Aztec Stories Project, will share an interactive musical presentation titled "Foods of the Aztecs." With songs and stories, and over 30 handmade indigenous instruments, Heralda reveals the seven foods of the Mexica warriors, an ancient Nahuatl planting ceremony, and philosophical and spiritual aspects of the indigenous farmer's connection to plants. Heralda will perform on Saturday at 2 p.m. and Sunday at 11 a.m.
Zarco and Carmen Guerrero have been celebrating Dia de los Muertos in communities for 25 years. At the festival they will perform Life and Death in Latin American Music, with folk music that addresses the themes of life and death as seen in Mexico, Chile, and Peru. The charango, a 10-string armadillo shell guitar, an accordion, a guitar, and a quena or bamboo flute add to their lively presentation at 4 p.m. each day. At 10 a.m. both days, the Guerreros will lead a La Calaca mask making workshop for all ages. The Calaca, the smiling skull of Mesoamerican art, is widely used during this holiday to signify eternity and is the common denominator for all of mankind.
Trappings of the American West, an exhibition of fine and functional art of the American cowboy that is at MNA's historic McMillan Homestead through Nov. 2, will present Pilgrimage to Cristo Rey. Flagstaff artist Raechel Running shares her personal experiences and compelling photographs of this half century-old annual epic journey on horseback up Cubilete Mountain in Guanajuato, Mexico with more than 3,000 riders to the 65-foot statue of Christ the King.
Dr. Rose Diaz, an historian who grew up in Flagstaff after her parents moved here in the '40s, will talk both days (Saturday at 2:30 p.m. and Sunday at 3 p.m.) about the history of the Mexican-American community in Flagstaff. Diaz has just retired from the University of New Mexico in Albuquerque, where she was a research historian.
New this year is Sambátuque, a high energy 10-person all percussion group that plays Rio-style samba and Bahia (samba-reggae), will perform outdoors in the afternoon on both days.
On Sunday only from noon to 2 p.m., Los Compadres, a local community conjunto or small group, will play familiar Mexican root music. This band has been playing together for 30 years in Flagstaff. Herman Ulibarri, owner of the Ulibarri Barbershop, plays lead guitar, Frank Martinez plays trumpet, and guitarist Manny Ulibarri and rhythm guitarist Jess Rodriguez sing old favorite songs with bass guitarist Trini Logan.
Graffiti mural art by the Southwest Eclectic Artists return outdoors on the museum grounds. For the last several years, visitors have enjoyed watching the creation of a wall-sized mural with colorful contemporary and ancient images made from spray paint during the festival.
Flagstaff's Ballet Folklorico de Colores will perform three dance traditions of Mexico, including Danza, indigenous dances generally religious in nature and usually performed in ritual or community settings. Also typically religious in nature, Mestizo dances are indigenous dances reflecting European influences in either the steps, themes, instrumentation, or costuming. Bailes Regionales, or regional dances, are primarily social in origin and are performed by most of the ballet folklorico groups in Mexico and the U.S.
Ofrendas, or altars, are integral to the Dia de los Muertos tradition. Nuestras Raices will again create a community altar. The public is invited to bring photos and momentos of their loved ones to contribute to this special festival place of memory and reverence. As they have for several years, Flagstaff Hispanic families will set up individual family altars in the museum's Jaime Major Golightly Historic Courtyard using water, salt, copal, candles, yellow marigolds, pan de los muertos or bread of the dead, and sugar skulls representing the sweetness of life for offerings.
Fun for Kids All Day
Youngsters of all ages will enjoy a  9 a.m. sugar skull workshop and a 10 a.m. mask making workshop on both days. At 1 p.m. on Saturday and 11 a.m. on Sunday, storyteller Lupe Anaya of Mexican descent and from a Flagstaff pioneer family, will share the tale of "La Llorona," the mysterious weeping woman. And all day both days at Creative Corner, kids can make take-home paper flowers, paper masks, and papel picado.
Nuestras Raices and Festival Sponsors
Nuestras Raices is a local grassroots organization dedicated to promoting Mexican/Mexican American/Hispanic cultures in this area. Its name means "Our Roots" and its members are Hispanic pioneer families of Flagstaff from the 1800s.
MNA Heritage Program
At the base of the San Francisco Peaks - an integral part of the Colorado Plateau's spiritual landscape - the Museum of Northern Arizona's four annual festivals highlight the region's cultures. These gatherings encourage communication and the exchange of ideas between visitors, educators, and artists.
The museum is located three miles north of historic downtown Flagstaff, on Highway 180. It is open daily (except Thanksgiving, Christmas, and New Year's Day) from 9 a.m. to 5 p.m. Admission is $7 adults, $6 seniors (65+), $5 students, and $4 children (7-17). For more information, call (928) 774-5213 or go to musnaz.org.