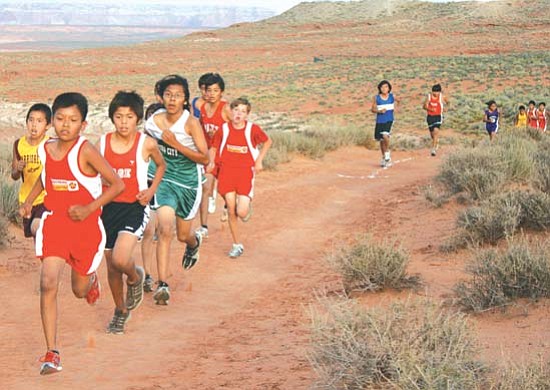 Originally Published: October 14, 2008 4:56 p.m.
TUBA CITY, Ariz. - On Oct. 8, the lady Thunderbird Cross Country Team of Tuba City Boarding School (TCBS) won their own 39th Annual Thunderbirds Cross Country Classic Invitational. This classic cross country meet has attracted many northern Arizona junior high school teams over the years, including outstanding prospective runners that have gone on to run for high school teams. Tuba City Schools and the community are known to produce top runners.
Meticulously hard working in academics and on different terrains is just what the mighty T-bird runners have been doing as they apply Coach Coolie's concepts of the four A's: Attention, Attitude, Attendance, and Accountability to make a team suitable to place tops in a race.
Like any competitive sport, and with all the potential the team has, it is also easy for the pressure of high expectations to get to the runners. Therefore, team members apply the concepts of the four A's as they focus on a successful race as a team. The T-birds have two meets remaining before their journey to state. Each member must perform their roles in order for the team to be outstanding.
"We will be losing five varsity runners this year but don't underestimate the mighty T-birds because the JV runners have the same potential [as] the varsity girls," says Coach Coolie. "These young athletes are just as capable and need to believe in themselves to make phenomenal magic happen."
The girls' varsity team led by Mikayla Hudgins earning the runner-up honor and Brianna Loughran placed fourth. Ashley Onsae finished in fifth place. These top three runners were phenomenal all season and have produced an excellent competitive team by laying the foundation for their teammates to follow, creating even more star athletes. In addition, these athletes have the potential to contend for the Arizona State Junior High School Cross Country Championship race, which will be held on Nov. 1.
The T-Birds girls' varsity competed against other northern Arizona junior high schools with approximately 50 runners in the race. Once again, the lady T-Birds captured first in the team competition with a score of 38 points, Chinle was second with a score of 64 points, and Hopi took third place with a score of 90 points. Other varsity runners helping the team included Amber Toledo, Jaylin Sanders, Kairee Silas and Audrianna Honanie.
On the other hand, the boys' varsity teams are at a stage of creating a competitive foundation and did not place in the top three. The team was led by Kyle Hardy and Eddie Loughran placing ninth and 16th overall. Chinle won the meet with 55 points, Page Middle School took second place with 101 points and third place went to Navajo Mountain with 103 points. Other T-Bird members were Frankie Begaye, Travin Uentillie, Zachary Leib Perry, Isaac Williams and Wesley Loughran.
Other first place victories captured by the Lady varsity T-Bird cross country team title include the Kayenta Middle School Invitational, Pinon Invitational, Hopi Invitational, Mtn. Elden Invitational, Shane Morris Invitational, and Page Steel/ Lake Powell Middle School Cross Country Invitational.
The T-Bird's next stop will be the upcoming Navajo Mountain and Tonalea Cross Country Invitational meets.
Team members thank all parents, grandparents and fans for their dedicated support in making this an awesome season.