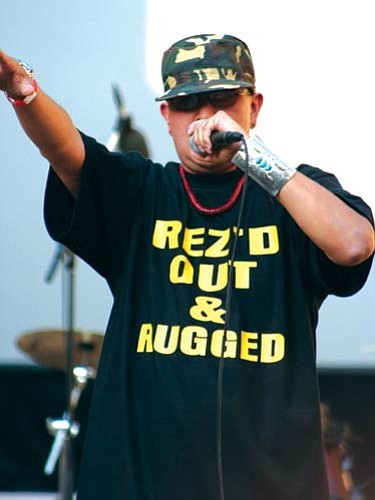 Originally Published: October 14, 2008 4:59 p.m.
LOS ANGELES, Calif. - At Los Angeles' famed Ford Theater, various workshops and presentations were given as part of the Second Annual International Indigenous Hip Hop Gathering. One of the speakers, Willow Jack Abrahamson, Shoshone/Bannock, of Fort Hall, Idaho, spoke to the audience on the relationship between the Northern and Southern tribes of the Americas, especially relating to those with the Uto-Aztecan language.
The Uto-Aztecan language family is one of the largest and most geographically spread languages in the Americas. Among the tribes who speak this language are the Shoshone, Comanche, Hopi, Northern Paiute, Colorado River, Chemehuevi, Ute, Paiute, Luiseno, and the Sonoran branches, which include Nahuatl, Tarahumara, Yaqui, Pima/Papago, Mayo, Huichol, Nahuan, and Pipil, just to name a few.
One of the groups that performed this year were The Visionaries, a nationally known hip hop group that has performed and toured the U.S., Europe and Japan for a little over 12 years. Also present were Los Nativos, a Xicano group from Minnesota; El Vuh, a group out of the L.A. Area who blend hip hop with positive and inspirational messages to honor family and your community; and Buggin' Malone, Oneida, who uses his experiences and outlook on life's journey to create a new twist on hip hop.
Another performer who attended the event was YAIVA, Navajo/Hopi, who took the crowd to a conscious level by shedding light on the environmental and social impacts that his tribes are facing. Yaiva was involved in gang activity at a young age, but has since taken a different route and is now one of the top presenters in colleges and universities speaking about the threats to water resources in northern Arizona, the threat to the sacred San Francisco Peaks near Flagstaff, substance abuse and gang awareness and the need for positive role models for reservation youth.
Other performers included Rebel Diaz of the South Bronx, by way of Chicago; Audiopharmacy, of the Bay Area in California, featuring Ras K'Dee and an amazing group of performers who have a style all their own (think traditional music blended with reggae, ska, punk, rap, salsa, mixed with spoken word). Audiopharmacy has a lot of "conscious" hip hop tones to their music, with a lot of influence of issues that are close to the group's hearts, like native resistance, environmental impacts, and social issues that play themselves out in not just the urban areas, but on the reservations as well.
Fidel Rodriguez and Chihuatl-Ce and the artist called Tolteka hosted the event - all three are nationally known performers and artists.
The event sponsors were the Condor and Eagle Alliance, a collective of artists, musicians, designers and community organizers from the Los Angeles area focused on bridging communities through hip hop.
For more information on the event or to find out about the next year's event, visit www.myspace.com/iihhg. The Web site also contains links to individual artists' Web sites and contact info for each.