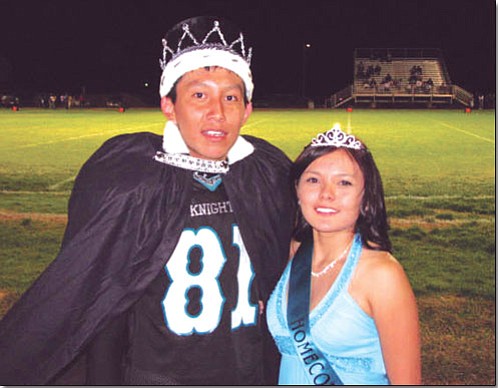 Originally Published: October 14, 2008 4:35 p.m.
TUBA CITY, Ariz. - Greyhills Academy High School celebrated homecoming with enthusiasm as the week began spirit week with nominations of class royalty, grand marshal selection, a pep rally, a homecoming parade and capping off the week in front of a sold out stadium 2A conference football game hosting the Pinon Eagles.
Seniors Trent Nells and Charise Charley were crowned Homecoming King and Queen at halftime. First runner up went to seniors Sioux Gordo and Elliot Chee. Nells is a wide receiver on the football team and Charley is a cheerleader. The junior class also received recognition for their powder puff game championship during the week and they vowed to repeat next year as seniors.
The parade to celebrate homecoming began in the heart of Tuba City down Main Street and east on Edgewater Drive with this year's co-grand marshals and GAHS teachers Mary F. Begaye and Bart Clennon leading the way. Students, staff and the community were treated to various styled floats as students and staff gave out treats to the hundreds of spectators that lined the streets. As class royalty and princesses waved to the motivated crowd, each were greeted with cheers as they moved past the judging area. The senior class was given the first place honors with their float while the freshmen class came in a close second. The residential float took first as best in show/ performance category.
In football action the Knights wasted no time putting points up on the board behind an electrifying trio performance from junior Jonasen Nakaideneh with three touchdowns, two from senior quarterback Elliot Chee and one from junior Jonathan Boone. The Knights demonstrated balance in their offense and defense leading the Eagles 30-0 at halftime. The Knights were in a rout of posting a shutout but with 11 seconds remaining the Eagles recovered a fumble at their own seven yard line, returning it 93 yards for a touchdown as time expired ending in a 44-6 win for the Knights.
In other sports news, the Lady Knights volleyball team placed second at the Chino Valley Invitational and the Knights Cross Country team placed second at the Many Farms Invitational on Saturday.
In recognition the Knights thank all the parents and community for their support to strengthen parental involvement in all facets of the educational process.