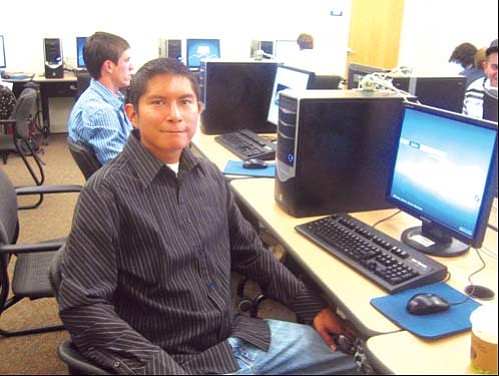 Originally Published: October 7, 2008 1:25 p.m.
SOCORRO, N.M. - Erik Bennett, a computer science student at New Mexico Tech, recently received a Google Scholarship worth $10,000 to continue his studies at the state supported school.
"This is a really big help," Bennett said. "I have received other scholarships from the university and from other organizations, but with this scholarship, I can completely focus on my studies and not worry about room and board or books or any of that."
Bennett grew up in Gallup, N.M., and graduated from Window Rock High School. He became interested in computer science as a student at San Juan College in Farmington, where he earned an associate's degree. He is in his third year at New Mexico Tech and expects to graduate next spring.
Bennett is one of only 42 computer science students in the nation who has been recognized for outstanding academic and leadership accomplishments in computer science. In addition to the academic scholarship from Google, Bennett and the other recipients have been invited to the Annual Google Scholars' Retreat next spring at the Googleplex in Mountain View, Calif.
At San Juan, he was drawn to computer science in a class where he helped design a word processing program. His main contribution was to devise a prototype of a Navajo-English dictionary.
"My instructor was really excited about my Navajo-English dictionary and we implemented it," he said. "Now it's a major feature of that ... software. I found that really exciting and that got me into computer science."
Since coming to New Mexico Tech, Bennett has completed several internships, three at the Four Corners Power Plant in Fruitland, N.M, one for the U.S. Department of Agriculture in Washington, D.C. and another for Arctic Slope Regional Corp., which is an Alaska Native-owned corporation. Arctic Slope is heavily involved in engineering and consulting, civil construction, oil and gas support, aerospace, communications and venture capital.
Bennett helped Arctic Slope's Federal Holding Corp. in Greenbelt, Md., streamline its document review process, using SharePoint and InfoPath and writing custom software.
"It usually takes weeks for them to get documents reviewed," he said. "I helped them shorten the process to a couple days."
Minorities and women are significantly underrepresented in the field. Each year 78 percent of computer science degrees are awarded to male students. Google has implemented a minority scholarship program to increase diversity in the technology industry.
According to the National Science Foundation, American Indians make up less than 1 percent of the annual computer science graduates. Women account for 22 percent. Just 6.5 percent are Hispanic students and 4.8 percent are African American.