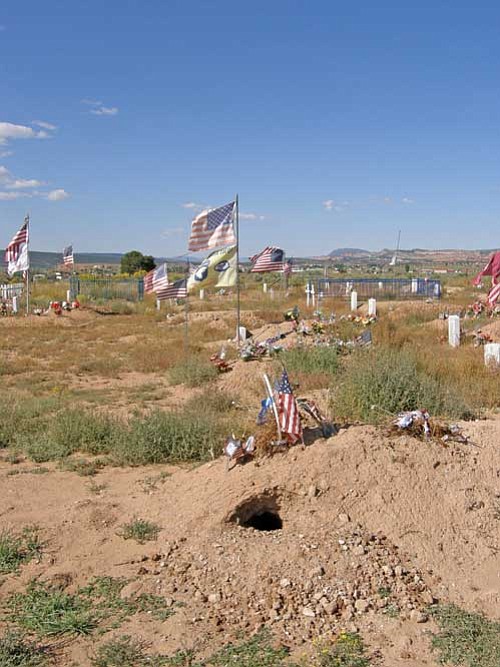 Originally Published: October 7, 2008 10:53 a.m.
To the editor:
As I left Twenty Nine Palms Marine Warfare Center after visiting my son, I noticed signs as I was leaving. Remembering five generations of my family who served with the Marines and in such places as Guadalcanal, Tarawa, Bougainville, Okinawa, Vietnam and soon probably in Afghanistan; those places brought back memories of duty, loyalty, honor, friends, and brothers in arms that served.
I was going to New Mexico for a meeting and I thought I would stop at the Navajo Code Talkers Monument and pay my respects to those men that saved so many.
On Interstate 40, also called the Purple Heart Trail, I remembered so many things that I have read and heard about service and loyalty by so few that saved so many. I really wanted to pay my respects to the Code Talkers. I did not know where exactly I was going so I stopped at a small store off I-40 and asked an older Navajo lady there if she would give me directions to the monument. She did and later I expressed my displeasure to her about the graveyard and its condition. After she confessed to me that she could not find her brother there I felt real remorse for her and her family.
By chance I missed the turnoff and traveled two miles further past the turn off to the Code Talkers Monument. Instead I stopped at what I thought was the monument because of the American flags. I was in error or maybe not. I got out and stood in front of the flagpole and saluted not knowing what I was looking at or could believe. Tears flowed and I heard someone calling to me and asking me, "What is wrong with you brother?" Shame, I just could not believe that the [dearly departed] could be so disrespected. Her name was Sarah and she was visiting a grave and she apologized to me that she was sorry she could not clean it off as she had brought no tools. I did not say anything but instead walked amongst the graves and got terribly incensed.
I went back to my truck and got a shovel out and went to the grave Sarah was picking at. We cleaned the grave and she selected dry desert plants that bloomed to leave and the rest we removed. She said she would take care of the thorny tumbleweeds.
I [then] went to the tribal police and asked for an address or phone number, someone to contact. They gave me the President's phone number but it had been disconnected. Actually when faced with a male authority figure I had no ability to speak as I was so upset. Finally after a time we spoke and I told him what I had seen and asked him why the veterans' graveyard was in that condition. He said basically there was no money, [so I asked] him, do you own a rake? I found out he had been in the service. I left and went to my meeting and as it happened, the Code Talkers were having a book signing there. I paid them a visit and met Keith Little, Code Talkers Association president.
In reality what could I say? These guys had seen it all and done it all and as a Marine they were a legend to me. I guess I was not as polite as I could have been, but I expressed my feelings. Mr. Little did say that there was no money and no help. His other companions expressed that the Navajo bury their dead and forget them. But after my conversation with them there is a mistake somewhere. As Samual Smith expressed, "There is a loss in the heart."
I might add there is a loss of electricity and domestic water to the people there, too. We can do so much for other countries but we cannot do for our own? Mr. Little said I should talk to the veterans people at the reservation. So I tried and I also visited the ruling council. I spoke to a young man there who worked for the Chief of Staff. He does not visit graves either.
I contacted my son at Twenty Nine Palms and he gave me some phone numbers. I contacted the 3rd LAR and they will forward the photos [I took] on to their Sergeant Major.
As a Marine we owe the Code Talkers, but we also owe the others buried there. There are men buried there that served from WWI to Iraq. Something has to be done about this.
Darrell Smith
(Sgt. USMC 68-72)
Coquille, Ore.
More like this story