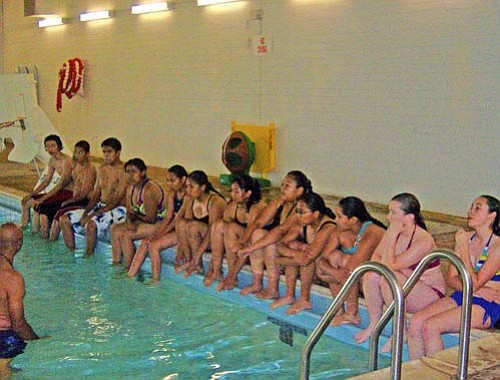 Originally Published: October 7, 2008 11:40 a.m.
In preparation for the Third Annual Hopi 2 Hawaii trip, 30 Hopi students start their swimming lessons at the city of Winslow indoor pool, from 5-6 p.m. The reason why they're having these swimming lessons is to prepare the cadets for the water challenges against the Waianae cadets in Hawaii for an event called the Pearl Harbor Challenge. In accordance with the Hawaii rules, the cadets must complete a total of six out of 10 lessons to be eligible for the Hawaii trip.
On Sept. 18 the cadets had their first swimming lesson. They left the school at 3:45 p.m. and arrived at 5 p.m. Along with the students, Major Taylor and Sergeant First Class Nance went along; however Sergeant Nance was the one who gave the lessons.
Upon arriving the cadets quickly got into their swimming attire and lined up against the pool to review the pool rules. Once they finished going over the pool rules they broke down into two groups; the advanced group (cadets who already took the swimming lessons the year before), and the beginners groups (cadets who didn't go over the basic proper swimming techniques). The advanced group went to the one side of the pool and started to swim laps and refresh their memory from last year. And the beginners groups started their basic breathing and paddling along side the wall of the pool.
When they were done with their swimming lessons the cadets got back into their civilian clothing and had their sack lunches. While they had their sack lunches the cadets headed back home, feeling better prepared for the Pearl Harbor Challenge.