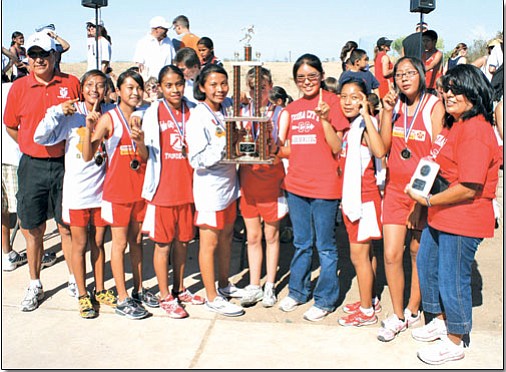 Originally Published: November 11, 2008 2:10 p.m.
The Tuba City Boarding School (TCBS) Lady T-Bird Cross Country team made their presence known again. This time, it was at the Arizona Junior High School cross country race on Saturday, Nov. 1 where they took the state championship title. The team arrived one day to prepare themselves for their final cross country race and to familiarize themselves with the course.
Coach Coolie encouraged and reminded each runner. "That this is what we have trained for all season long. Remember to relax and use your arms to power yourself to the finish line. Remember that records are meant to be broken and with determination to work together as a team."
With that, the Lady T-Bird runners blazed out of the chute. They were among the quickest to cover the 2.1-mile race to determine which school would become the number one team in the state of Arizona. Approximately 217 runners representing 41 junior high schools from across the state competed. After the dust settled, the Lady T-Birds team claimed the championship honor with a score of 58 points. Chinle Junior High School took runner-up spot with a score of 109 points and third place went to Altadena Middle School with a score of 112 points.
Early in the race, the Lady T-Birds ran in a magnificent style as Brianna Loughran led the race up to the 1 1/2 mile mark with Mikayla Hudgins and Ashley Onsae following in a close third and fourth place. Coming around the last turn to the finish line Brianna faded into the top fifteen positions as Mikayla Hudgins and Ashley Onsae maintained their position to the finish line in third and fourth place respectively. Sierra Hassinan of Centennial Middle School claimed the individual state title and Chelena Betoney of Sanders Middle School claimed runner up honor. Other team members that helped out the Lady T-Birds was Amber Toledo, Jaylin Sanders, Kairee Silas, and Audrianna Honanie.
"Volunteering to coach young athletes for the Tuba City Boarding School is my way of giving back to the sports of running, because it is my passion. Most of all it's for the young athletes to excel in academic and sports, because you never know who you will inspire and touch," Coach Coolie said.
"This definitely was an honor to facilitate for a group of gifted athletes. These young runners had to all work at building a strong team. In the end, they have proven to themselves, that with the dedication in academics and hard practices that they can obtain their desire."
For the boys, the team was led by Kyle Hardy and Frankie Begaye finishing in 21st and 49th place respectively. Other team members included Travin Uentillie (84th place), Eddie Loughran (112th place), Tory Yazzie (136th place), Chance Saganitso (177th place), and Zachary Perry, (218th place). As a team, the boys finished in 14th place, with a score of 375 points. These boys should not be underestimated; they now know how to compete and have the ability to compete for next year's cross country season.
All of the T-Bird cross country runners on the girls and the boys' team were proud to be able to compete at the state level. Any child can experience the same opportunity with the right support. To top it all off, the "Winning Coach" plaque of the year in Cross Country was awarded to Mr. and Mrs. Coolie for their accomplishment in coaching a magnificent team.
All supporters and the surrounding community of Tuba City and Moencopi should be thanked for their tremendous support for these runners. Lastly, all the TCBS support staff, kitchen, bus drivers, maintenance, school board members, and the administration should also be thanked for supporting the 2008 Cross Country State Champions.