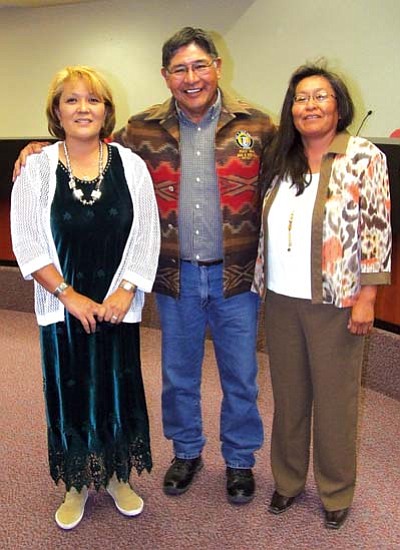 Originally Published: November 11, 2008 4:52 p.m.
KAYENTA, Ariz. - In a formal gesture of appreciation, the Navajo County Board of Supervisors, elected officials, staff, and elected officials and community members from District I honored outgoing Supervisor Percy Deal for his 28 years of service to Navajo County at the annual Kayenta Community meeting on Oct. 20.
"All of us who have worked with Supervisor Percy Deal consider it a privilege," said Supervisor Jesse Thompson in the invocation. "There have been a lot of battles, but we have formed a team."
The Board of Supervisors awarded Supervisor Deal with a plaque, thanking him for his "dedicated service, unwavering integrity, and selfless sacrifice to the communities and people of Navajo County." Each of the supervisors took a moment to personally thank Deal for his contribution as senior member of the Board.
"When it comes to being able to take a young, inexperienced supervisor under his wing and teaching him how to serve his people and those of the County, you have been like a father to me," said Supervisor David Tenney (District IV).
Supervisor Jerry Brownlow (District V) also thanked Supervisor Deal for sharing his experience.
"I looked to Percy for leadership and guidance and I respected him tremendously," he said. "But what I respect most about Percy is that we could disagree, but when business was over, we were still friends."
The gift-giving continued through the meeting. Navajo County Judge Dale Nielsen also presented Supervisor Deal with a plaque in recognition for his commitment to all citizens of Navajo County.
"Percy has always been a great advocate for all of the people of District I," Judge Nielsen said. "Whenever you came into a Board meeting you were going to have Percy ask this question: 'What are you going to do for the people of the North?'"
Supervisor Deal's seat on the Board will be taken by Jonathan Nez, a member of the Navajo Nation Council. Deal reassured those in attendance that Nez would be a good fit for the position.
"I know Jonathan's going to do an outstanding job, and he's going to need the same support you gave me," Supervisor Deal said. "Give him that appreciation and respect, and he will give it back to you."
Nez thanked Deal for the support.
"I want most to show my appreciation to Mr. Deal, and how I respect him," Nez said. "I have some big shoes to fill."
Supervisor Deal was also given a woven jacket as a gift from Constable Esther Grass and Justice of the Peace Suzie Nelson, in appreciation for the work he had done.
Senator Albert Hale spoke about his long relationship with Supervisor Deal, calling him "my son."
"Our relationship went deep into the fabric of who we are as Navajos," Hale said. "You have continued to give and give without hesitation. My son, you make me proud to be a Navajo and I want to wish you well. May God bless you and your family."
Supervisor Deal thanked all who were present for their comments.