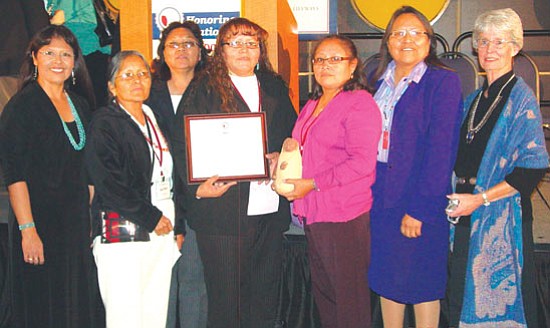 Originally Published: November 4, 2008 4:51 p.m.
PHOENIX, Ariz. - Pine Hill Health Center's Cancer Awareness and Prevention Program received high honors and $20,000 from the Harvard University John F. Kennedy School of Government on Oct. 21. The honoring ceremony was held in conjunction with the 65th Convention of the National Congress of American Indians. Hundreds of guests from around the world including the countries of South Africa, Chile, Brazil, China and Argentina, came to learn from the awardees and witness the recognition of the good governance achievements.
Only five High Honors programs out of 111 programs representing 69 Indian nations were awarded. Five honors programs from the same nominees each received $10,000. The nominees went through an arduous process that began in January. According to the Harvard Honoring Nations program, "The exemplary governance programs are critiqued on sovereignty, cultural relevance, transferability and sustainability."
In addition to judging the written contents of the application, an on-site visit is conducted and at the final stage, a public presentation is made by each of the top ten nominees. The representatives from Pine Hill made an excellent public presentation.
"Epitomizing success in the face of challenge, each of the Honoring Nations programs validates the genius of our Native peoples and our abilities to meet the issues of present time as we ensure healthy futures and honor connections to our traditions" said Chief Oren Lyons, Faithkeeper of the Onondaga Indian Nation and chairman of the Honoring Nations Board of Governors.
Originally established in 1978 by the Ramah Navajo School Board, Inc., Pine Hill Health Center serves primarily the Ramah band of Navajos and is the first Indian controlled health center in the nation. It serves a population of 4,000 in a very rural setting that is approximately 45 miles from the nearest hospital.
According to written Harvard Honoring Nations literature, "The Pine Hill Health Center staff recognized that breast cancer is the second leading cause of death for American Indian woman and therefore initiated its 'Mammography Days' to provide culturally relevant breast and cervical cancer screenings. The services are offered in the English and Navajo languages, includes door-to-door transportation, medical exams, health education sessions, and follow-up. It also includes social activities like quilting. Without this essential program, few women in the Ramah community would receive a preventive health education."
Pine Hill Health Center also received a Regional Impact Award at the 2007 National Indian Health conference in September in Portland, Ore. for its health programs.
Other 2008 High Honors awardees are: Choctaw Nation's Project Falvmmichi, Tohono O'odham Nation's Archie Hendricks Senior Skilled Nursing Facility / Hospice; Muscogee Creek Nation's Reintegration Program; and the Osage Nation's Government Reform Initiative.
More like this story