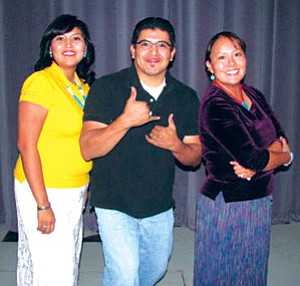 Originally Published: November 4, 2008 2:57 p.m.
As editors of a public forum such as the Navajo Hopi Observer, there must always be a certain degree of diligence with which we scrutinize much of the material that we intend to publish in our newspapers and Web sites. Admittedly, there will be instances in which due to the pressure of upcoming deadlines, editors can - and sometimes do - make errors in judgment. Before shooting the proverbial messenger, however, readers should keep in mind that editors are only human, and humans do occasionally make mistakes.
With that in mind, a reader wrote in last week to comment about a photo posted on our Web site allegedly depicting a gang sign, which promptly raised the question, "Is the gesture in question really a gang sign?" The photo posted on our Web site seemed innocent enough - it was a photo of up-and-coming Native comedian Pax Harvey pictured with a couple of ladies following their performance at Greyhills Academy High School in celebration of Red Ribbon Week. In the photo, Mr. Harvey is shown giving what seems to be the Hawaiian "shaka" sign, also known as the "hang loose" sign, a common greeting among Hawaiian locals.
Over the years, many different hand signs have appeared in various newspapers and magazines, such as the "I love you" sign in American sign language; the "thumbs up" sign; the "power" sign of a raised fist, the "victory" sign often used by former President Richard Nixon, and even the Village People's "YMCA" sign.
Not to feign ignorance or naïveté, but aside from the comment in which the reader stated, "The picture is so blatantly gang sign... I'm a bit surprised that anyone could have missed it," there was no prior knowledge or indication on the part of the contributor (Greyhills Academy High School) that the hand gesture used by Mr. Harvey was even remotely associated with gangs, especially since the photo was of a positive event. If in fact the hand gesture had been perceived to be a gang symbol by Greyhills Academy officials, it probably wouldn't have been submitted to the Observer for publication in the first place.
Many publications and Web sites explain that the "shaka" sign can have multiple meanings. For example, surfers often use the "shaka" sign to communicate expressions such as "all right," "cool," "smooth," and "hang loose." It can also be interpreted as a gesture of friendship and used to say "hello," "goodbye," or "take care." The "shaka" sign is often used by drivers in Hawaii as a signal of thanks to other drivers who stop to let them onto the road.
So when and how did the seemingly harmless "shaka" sign become a gang symbol? That question remains to be answered. Editorially speaking, it's fairly easy to filter out obvious gestures of disdain (such as a raised middle finger), but other gestures and/or symbols may not be as explicit to those who have had no prior exposure to such gestures. It is therefore up to editors to make the best possible judgment as to whether or not an image - or part of an image - is appropriate because photos often lend credibility to the articles they accompany.
In defense of editors, many do tend to err on the side of caution when using photos that depict hand gestures and often choose not to run those types of photos whenever possible. But when no other options are available, where do editors draw the line? What would officially constitute an offensive hand gesture? Could a photo of a child waving to the camera someday be deemed offensive? If so, how would we know?
The bottom line is that if editors are continually forced to exercise caution on every single photo depicting a hand gesture that might be deemed offensive to the general public, then we become "hobbled" in our ability to effectively tell stories, report news or capture personality or emotion in a photo, resulting in a bland, uninteresting product that no one will want to read.