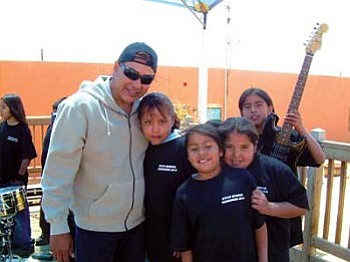 Originally Published: May 20, 2008 5:09 p.m.
FLAGSTAFF, Ariz. - For the past two years, the Wellness Committee at the STAR School, spearheaded by Louva Montour and Loretta Jones - has addressed the growing diabetes and obesity problems in their corner of the reservation through healthier eating and exercise habits.
Montour manages the kitchen as well as teaching home economics. Her sister, Jones, doubles as a teaching assistant and physical education instructor. The pair, along with school director, Mark Sorensen and other committee members developed the idea for a fun fair where these topics could be passed on to the staff and students in an upbeat manner. The event took place on May 2.
"The purpose for the fun fair was to show people that there's more to staying healthy than just watching what we eat and having to make ourselves do some kind of exercise everyday," said Montour. "It's good to celebrate staying healthy.
"We invited different health education programs such as the tobacco prevention program at Native Americans for Community Action (NACA), and representatives from the Navajo Nation Health Education programs who brought and distributed information and other items. The Navajo Nation Diabetes Program brought a variety of games that the students enjoyed - I heard that some of our students did not want to stop playing."
The day opened with Sorensen handing out T-shirts to each student and staff member. Students then were free to make their way to various booths and events - and an open table of healthy goodies.
A group of STAR School students, under the direction of Steve Babcock, enjoyed the thrill of opening for the afternoon's entertainment.
The band Clan/destine II performed over a healthy lunch of potato salad, fruit salad, grilled chicken and other items, and their music continued into the afternoon.
Clan/destine II is David A. Montour (Mohawk, Cayuga, Potawatomi and Ottowa), Juan "Cano" Sanchez (Lakota, Pueblo, Spanish), Chuck Harris "Riptide" (Hopi, Tohono O'otham), Matthew Vaiza (Hispanic), Mike De La Torre (Hispanic), and most recently, Rachel Villa. Funding for the band was provided by Leupp/Birdsprings/Tolani Lake Council Delegate Thomas Walker Jr. and the STAR School's Johnson O'Malley Program.
"Having Clan/destine II perform was intended as entertainment for people to enjoy while they lunched, but some of us danced into mid-day and just had a really good time," Montour continued. "People can still celebrate without sodas and high calorie foods."
Members of the Wellness Committee sent out a big thank you to Shamrock Foods for donating the fresh produce everyone enjoyed.
"Our school's home economics class members baked fresh goods that every loved, such as banana bread, zucchini bread, blueberry-lemon tea bread, and date-nut bread," Montour continued. "We also want to thank Congressman Rick Renzi for providing the bottled water and Gatorade, as well as Louis Benally from Northern Arizona University's Native Food Ways program. She added a traditional foods touch to our event by working with students in making blue corn dumplings and blue corn cooked in corn husks."
Montour said that it was the committee's hope that parents would support their students in staying healthy during the summer months.
"I think the students have done a lot of activities pertaining to staying healthy and learned a lot from the Navajo Nation Health Education Program visits during the school year," Montour concluded.