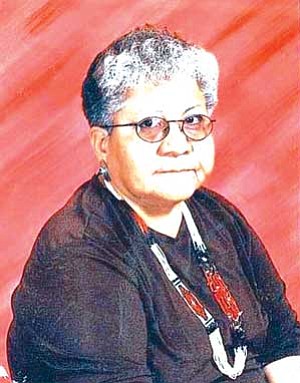 Originally Published: May 13, 2008 1:49 p.m.
WINDOW ROCK, Ariz. - The Honorable Speaker Lawrence T. Morgan sent his condolences to the family of former Navajo Nation Councilwoman Christine Apache who passed away on May 5.
Apache served as the Alamo council delegate from 1999 to 2003 under the leadership of the former Speaker Edward T. Begay. During her tenure, Apache served as a member of the Education Committee.
Apache was born on Dec. 20, 1948 to the Two Who Came to the Water clan, and her paternal clan was the Bitter Water clan. Her maternal grandfather is Salt People and her paternal grandfather is Apache. She was a lifelong resident of Alamo, N.M.
Speaker Morgan had the pleasure of working with the late councilwoman and he recalls her unbridled commitment to serve her people.
Apache is survived by six children and many grandchildren.
Her children are Lavonnia Stalker, Carla Stalder, Colson Monte, Eula Monte, Crystal Monte and Olson Monte Jr.
Funeral services were held Saturday, May 10 at the Word of God Church in Alamo.
More like this story