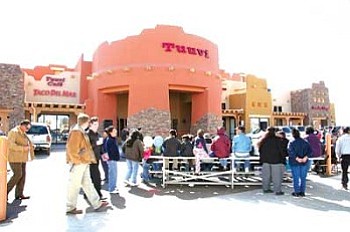 Originally Published: May 13, 2008 11:43 a.m.
MOENKOPI, Ariz. - The Tuuvi Travel Center held a grand opening May 2 as it unfurled a multi-million dollar complex that is hoped will bring an economic boost to the area.
The travel center, located at the intersection of Arizona 264 and U.S. Rt. 160, includes a convenience store, a gas station, the Tuuvi Cafe, Taco del Mar, a carwash and four Native American artisan shops. The complex is owned by the Moenkopi Development Corp. (MDC), which is an arm of Upper Moenkopi Village.
The travel center was financed by $6.3 million. The U.S. Housing and Urban Development gave $1.2 million, the U.S. Department of Agriculture supplied $199,000 and MDC borrowed $4.67 million from Compass Bank.
The grand opening was preceded with a food-tasting event, but this may be just the first taste of booming business for the area.
Daniel Honahni, president and chief executive officer for MDC said he has received nothing but positive feedback about the travel center opening and all the business that is expected to follow.
Honanhi, a member of the Hopi Tribe, said the goal is to create jobs and opportunities for Hopi people. He said the Hopi Tribe will make money off a loan to MDC and the revenue will eventually bring more money to Moenkopi.
Levi Esquerra, program director for the Center for American Indian Economic Development at Northern Arizona University, shares Honahni's excitement. He said this is a model for all tribes for creating an economic development corporation in order to get money-making projects going.
Esquerra, a member of the Chimeheuvi Tribe, said each of these economic projects will create momentum for the next project as there are several more phases planned.
"It's great anytime you're able to create jobs and opportunities and give entrepreneurs a chance to sell their wares," he said. "It's a nice clean place and it's the western entrance to the Hopi Reservation."
Esquerra said the center has helped MDC with a feasibility study and will continue to lend technical assistance, adding this economic complex would allow more tribal members to get their education and come back to the reservation to work.
"It's great when tribal members get educated. It's even better when they get their education and can come back to help," he said.
Esquerra said Honahni is an excellent example of this because Honahni has an Ivy League education (Harvard University) and he has been able to use that education to help with this economic project.
"He's created momentum and others will follow," he said.
Honahni said it took one year to put the funding in place, but that came on the heels of building a $5.3 million wastewater treatment plant, which was necessary in order to have all the hookups available for these businesses. The $5.3 million came from several grants and a $1.5 million loan from the Hopi Tribe.
Aside from setting up the wastewater system, MDC also has 56 acres at the travel center and all of it has passed environmental assessments so it is available for MDC to use for businesses.
Honahni said leaders from several other villages say they wish they could get something similar going in their villages. He said the big difference is most of the other villages have problems with land issues. He said Upper Moenkopi Village created a land use plan in 2001 that made the land available and limited land use conflicts.
Honahni is excited about the economic stimulus this will bring to Moenkopi, the Hopi Tribe and the surrounding area. But much more is planned.
The next phase of the project includes a 100-room hotel with a conference center. The funding for this project has already gone out to bid.
"If everything is properly followed up, construction will begin in July and can be finished by June of next year," Honahni said.
That would be followed by a business and education center -a three-story building that would be 40,000 square feet. The major tenant would be a bank, but there would be room for other businesses to rent.
There would also be space for any universities that want to use it. The application for the funding for the business and education center will go out by the end of June and an answer should be known by late November.
After that there are plans for a cultural interpretive center and an apartment with 60-90 units.
For the time being, however, Honahni invites everyone to check out the travel center. "We have clean large restrooms," he said.
The board members on the MDC are Wilfred Moore, Linda Honahni, Leroy Sakiestewa and Daniel Honahni.
Additional information about the project can be found at www.moenkopidevelopers.com.