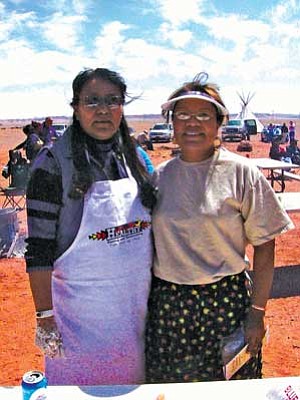 Originally Published: May 13, 2008 12:56 p.m.
CAMERON, Ariz. - Rumors are flying in the community of Cameron about various economic development proposals and environmental issues. Rather than allow the various stories to circulated, James Peshlakai and his family members held what they called the Gathering for Mother Earth as a forum for information sharing among community members and project representatives.
Three generations of Peshlakais have been active in representing issues important to the Navajo people - as well as promoting their rich culture, arts and crafts. Jamescita Peshlakai's recent decision to run as County Supervisor for her district makes her a fourth-generation member of this historical tradition. She joined her father and mother, Mae, in planning and preparing for the gathering.
"Many of Jamescita's friends and associates asked her if she could run, and she came home and asked what I thought about it," James Peshlakai explained. "I told her, 'look at me - I've had nine heart attacks and gone through two pacemakers. I can't make that decision for you. This is your time."
Peshlakai went on to describe the gathering as the young people's time to speak.
"One day the oil will be gone; one day our coal reserves will be gone," Peshlakai said. "What will our children live on? We must look at the coming post-petroleum era and look at renewable energy. We are looking at producing fuel from algae. We are looking at wind farms and solar energy."
Jamescita Peshlakai spoke about what she saw as important needs for Cameron and other Native American communities.
"We need sustainable economic development," she explained. "We need a better transfer station that will make it possible to deal with our waste disposal. That includes a recycling center - a real, functional recycling center."
Jamescita promised that she would work hard to address the needs of both reservation and non-reservation communities in District 5.
A full day of activities
At least 200 people gathered at Marie Howard's ceremonial grounds just behind the Chief Yellowhorse roadside venue north of Cameron to ask questions, present their concerns, while enjoying good food and entertainment.
The day of May 3 began with the raising of the flag by Gibson Jones and the Native American Vietnam Veterans Group of Tuba City at sunrise. Bucky Preston, Hopi, from the village of Polacca sang several sunrise songs and led the Sunrise Run. Preston, a world-renowned runner and environmentalist, said that he was honored by the invitation.
Arnold Yellowhorse, current president of the Forgotten People Community Development Corporation (CDC) Inc. spoke of the frustrations Navajo families still face despite the lifting of the former Bennett Freeze in July of 2006.
"Under the CDC, we are trying to help people with repairs," Yellowhorse said. "We are looking at solar power for families who live in the back country."
Yellowhorse explained that three universities (MIT; Brandies and Harvard) are working with his organization, learning about land, water and environmental issues impacting people on the Navajo Nation. Students from the school will be assisting in documenting the living conditions Navajos are living under.
"We can build our own economics and not wait for the U.S. or Navajo Nation governments," Yellowhorse declared. He also shared information that the Navajo Nation Supreme Court made it clear that as a grassroots organization, the CDC will have access to the court in seeking access to home site leases, water and other issues.
Don Watahomigie, chairman of the Havasupai Tribe, spoke about his people's concern regarding future uranium mining at the Grand Canyon.
"I look around me, and I see no information available about this issue," Watahomigie said. "I encourage people to educate themselves about this issue."
Evelyn James of the San Juan Paiute also expressed her concerns about uranium issues, as well as other problems facing tribes and communities in northern Arizona.
Later in the day, James Peshlakai, Watahomigie and Preston honored The Sierra Club's Andy Bessler, who worked in northern Arizona against relocation and Black Mesa issues. Bessler was hired as a southwest representative for the Sierra Club in 1999, and has worked on campaigns involving sacred site issues, including Black Mesa, Zuni Salt Lake and the San Francisco Peaks.
"If we put up unified efforts we can defeat these big corporations. I am humbled to be able to help. If we don't act, the children will be out of luck," Bessler said.
"We will work on policies that depend on renewable kinds of development. People need jobs, but we can't do [development] at the cost of our air and water," he added.
Bessler introduced his assistant, Stacy Hamblin, who told the crowd that if people are going to protect the environment, they have to stop using coal.
"The Sierra Club has filed a lawsuit against the Forest Service for allowing mining at the Grand Canyon," Hamblin continued. "The judge has issued an injunction in this case. Usually a judge won't issue an injunction unless you are going to win, so we are hopeful."
"I was taught that when you gather your people, you gather blessings," said Dennis Bowen of the Seneca Nation (one of the six tribes of the Iroquois Federation, or the Haudenosaunee). Bowen told of how the 1794 Canandai Treaty between the Seneca and the U.S. was broken by President John F. Kennedy in order to earn the support of the union in Pennsylvania to erect the Kinzua Dam, completed in 1964. Seven hundred Seneca people - over one-third of the population - was relocated, as were 3,000 graves.
"We have a prophecy that says we cannot destroy our own nest, but this is what the industrialized countries are doing," Bowen said.
Other representatives included Marshall Johnson and Enei Begaye of the Black Mesa Water Coalition, Evon Peter of Native Movement, Kelvin Long of ECHOES (Educating Communities while Healing and Offering Environmental Support), Arnold Yellowhorse of Forgotten People Community Development Corporation (CDC) Inc. and more.
The event was far more than a meeting - it was a day of sharing food and fun. Singer and songwriter Chucki Begay, who spoke of the effects of uranium on her community of Cameron, shared many of her powerful songs. Hoop dancers Lane Jensen, Tyrese Jensen and Tony Duncan (four time world champion hoop dancer/Apache) shared their skills with the hoops. Violet Duncan demonstrated the Butterfly Dance. Clarence Clearwater, Aaron Preston, Evelyn James (Southern Utah Paiute), Kelvin Long, Evon Peter, Bucky Preston and members of the Supai Tribe all provided songs in their own languages.