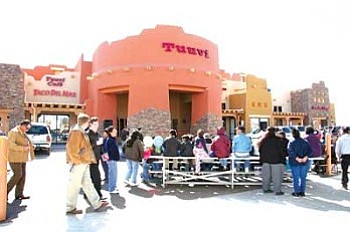 Originally Published: May 6, 2008 7:29 p.m.
MOENCOPI/TUBA CITY - For about the past 25 years, much of the discussion surrounding tribal economic development has focused on one high profile venue - casino gambling.
Wanting to maintain the traditional integrity of the Hopi culture, but still recognizing that jobs, long range investments, land purchase and tourists are a large part of what attracts year-round visitors to the Grand Canyon, Lake Powell and Monument Valley, the Hopi Tribe is interested in not only developing and catering to a modern tourist market, but also are looking at facility development infrastructure. In this way, they hope to support and maintain their own economic visions and operation under its own tribal owned tutelage at the gateway of the isolated Hopi reservation.
The Tuuvi Travel Center, on the corner of Highway 160 and Highway 264, formally opened this past week in Tuba City and Moencopi. Many of Hopi's neighboring tribes are looking to see how well the original infrastructure of the Upper Moencopi Village's wastewater treatment plant will help in providing all the water for its 24-hour convenience store, two restaurants, three retail art shop operations, 16 pump gas station, a full service car wash and smoke shop.
The new travel center will give visitors a momentary glimpse into Hopi culture, a chance to taste Hopi food, experience a bit of Hopi hospitality and more importantly, have the opportunity to see Hopi economic ingenuity at work.
If the Navajo Nation gets its wish to build a casino near Cameron near the southern part of the Grand Canyon, this new travel center will only be the beginning of successful economic partnership for the Moencopi Development Corporation (MDC) and the Navajo Nation in servicing the many tourists that travel globally to experience the grandeur of northern Arizona.
The MDC is also planning on breaking ground this summer on a new 100-room hotel and conference center that will feature employee housing, a swimming pool, restaurant and cultural learning center facility that will situated directly across from the travel center.  
This new approach to tourism also shows a unique host-guest relationship, one that is sensitive to it own natural resources and its own tribal history while supplying much-needed guest services to help visitors understand tribal people and the deep cultural richness in this special area of Arizona.