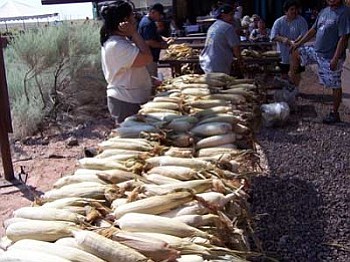 Originally Published: June 18, 2008 1:22 p.m.
WINSLOW, Ariz.- "Suvoyuki" translated in the Hopi language means to accomplish work through a joint effort. Suvoyuki Day is an open house day at Homolovi Ruins State Park that celebrates the partners who have collaborated to protect and save Homolovi area archaeological and cultural sites from destruction.
The event begins on Friday, July 11 at 7 p.m. with a talk about the Hopi culture. On Saturday, July 12, the day begins at 6 a.m. with a traditional Hopi morning run/walk (4 and 6.5 miles). Following the run, the Hopi corn-roasting pit will be opened and all will get a taste of freshly roasted sweet corn. Throughout the day, there will be Hopi artist and traditional food demonstrations and lectures. Archaeologists will also be available to interpret the sites. Parking will be available on the northeast corner of Interstate 40 and State Route 87. Shuttle service will then be available from there to the park.
Pre-registration for the morning run/walk is available at www.homolovi.com. There is a $10 registration fee that can be paid on the day of the run. You may also register the day of the run/walk but must be there no later than 5 a.m. The run/walk will begin promptly at 6 a.m. and will be on a cross-country trail course through the park. There will be T-shirts, refreshments and a prize drawing for run participants. Begin the day with a Hopi prayer for life and strength on this run and walk.
On Sunday, July 13, visitors can travel north on Highway 87 to Sipaulovi Village, paralleling an ancient Hopi migration route to the community center at Second Mesa. Sunday's events at Sipaulovi feature tours of the village, speakers, vendors of traditional foods, artists and other special activities including a fun run at 6 a.m.
Homolovi Ruins, one of a series of many ancient Hopi pueblos found in the Southwest, offers the public the opportunity to begin their journey into Hopi life and culture. Like the modern visitor making their way to Hopi, the Homolovi ancestral villages were a stop for the ancestral Hopi people along their migration route, eventually moving on and settling at one of the current Hopi villages. We can share their experience by viewing the village ruins that remain as cultural remnants of Hopi prehistory.
Hopi Tribal leaders and Arizona State Parks staff have been collaborating for five years to create a new model for park management and tourism to traditional Hopi lands that will preserve and protect the sacred culture while offering special cultural tour opportunities for the public.
For more information about Suvoyuki Day call Homolovi Ruins State Park at (928) 289-4106 or visit their Web site at
www.homolovi.com. Homolovi Ruins State Park is located five miles northeast of Winslow, Navajo County in northeastern Arizona. The park campground is near Interstate 40 and accommodates large rigs, as well as tent camping.
For information about Arizona State Parks call (602) 542-4174 or toll-free (800) 285-3703, or visit the Web site at www.azstateparks.com.