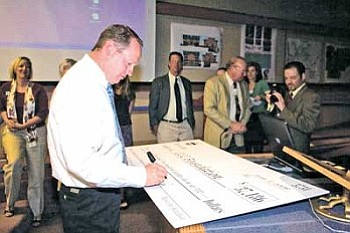 Originally Published: June 10, 2008 1:18 p.m.
FLAGSTAFF, Ariz. - Great chemistry between the City of Flagstaff and Coconino Community College is expected to concoct a safer workspace for science students. Flagstaff Mayor Joe Donaldson and the Flagstaff City Council have presented a giant check of more than $37,000 to CCC President Leah L. Bornstein.
"This funding reflects the city's support of education in this community, which ultimately improves our economic opportunities through enhanced workforce development," said Mayor Donaldson.
The gift will allow CCC to renovate and upgrade the existing chemistry lab on the Lone Tree Campus. The renovation, expected to take place this summer, will benefit students by providing better accessibility for physically challenged students, improving visibility of flames on Bunsen burners and relocating fume hoods to alleviate crowded work stations.
CCC Foundation Board Vice President Kevin Stephens said he is pleased and grateful to the city.
"This funding will benefit current and future students as well as help the college reach its full potential," he said.
"CCC fills a vital niche in the local community; we should all recognize and applaud the community college for its positive impact on workforce development throughout all of northern Arizona. Additionally, it's nice to see the college growing as it becomes a great educational institution," said Flagstaff Vice Mayor Scott Overton.
"We anticipate the changes will enhance safety by increasing accessibility for disabled students and allow all students to move about the lab with greater ease," said CCC Science Lab Coordinator Ana Novak. "Darker lab benches will also allow students to more easily see Bunsen burner flames and the chemicals they are working with."
An unveiling ceremony of the new chemistry lab is expected to take place during the Flagstaff Festival of Science in September.
"I can't thank the city enough for the difference it will be making, especially for our physically disabled students," said CCC Science and Math Department Chair Maxie Inigo.