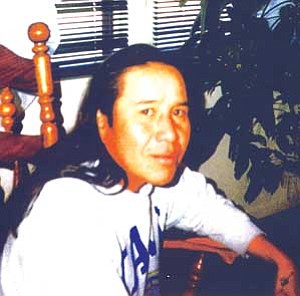 Originally Published: June 3, 2008 6:09 p.m.
John B. Harrison Jr., 53, of the Deerwater clan, born for the Tangle People Clan in Bird Springs passed away May 20 in Phoenix. He was born on Sept. 21, 1954 to parents John B. and Hope Harrison.
He is survived by his children Freeman, Athena, and Christopher Harrison; three grandchildren; and his longtime companion Carol John. He also leaves behind his mother, Hope; five sisters: Esther (Bob) Miller, June (Mauri) Jim, Ruth Harrison, Delores (Ernie) Murray, and Melinda (Allen Isenberg) Harrison; three nephews and nine nieces.
John was preceded in death by his father, John B. Harrison Sr., sister Evelyn and niece Rachael Elizebeth Murray. Funeral services were held Friday, May 30 at Norvel Owens Mortuary Chapel in Flagstaff.
Condolences may be sent to the family at www.norvelowensmortuary.com. Arrangements were under the direction of Norvel Owens Mortuary.
More like this story