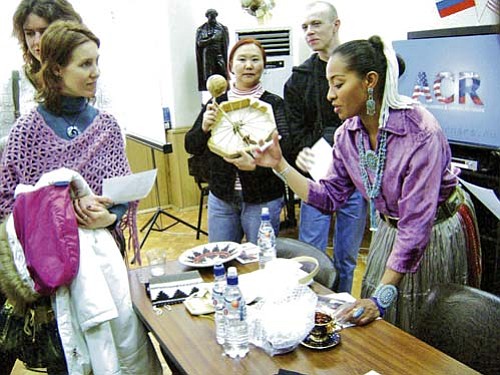 Originally Published: July 8, 2008 12:28 p.m.
MOSCOW, RUSSIA -Radmilla Cody immediately noticed two things upon her arrival in Moscow. First, there was no apparent order, and secondly, hers was the only face of color.
"There were no lines at the airport," Cody laughed. "People walked around like they were driving bulldozers - they walked right in front of me. Finally, someone asked me if I was in line, and told me that I would have to be more aggressive.
"Then I realized that people were staring at me," Cody continued. "I looked around me, and I was literally the only person of color."
After leaving Moscow, Cody eventually did meet others. There were "a couple of basketball players," and later she met aboriginal Russians.
"They are amazing," Cody observed. "They look Asian - and they play their drums upside down."
Having recently read a book entitled "Navajo Indians Today," she explained that the author had spoken of how the Navajo people originated in Asia, and then made their way through the Bering Strait and into Athabascan peoples.
"I tried to listen to their language to see if there were similarities between it and Diné. In the past I'd only heard that we'd traveled the Bering Strait - to read about Asia - I was taken aback," Cody said. "If that is so, my journeys have taken me full circle."
Another surprise was the stereotype vision many Russians hold of Native people.
"It was so interesting addressing individuals who feed into the stereotypes," Cody said. "They seemed to think that all of us wear beads and say 'hau.' I explained that there are many, many tribes - we don't look the same, we don't speak the same languages - we are just one tribe out of hundreds.
"The whole purpose was to talk about tolerance. I was giving three presentations every day. I was exhausted, but it was such an honor to share with them the Navajo culture and songs, and my experiences as Miss Navajo Nation," Cody continued. "The women were fascinated that we are a matriarchal people."
She enjoyed eating fresh salmon and viewing active volcanoes - taking time to visit the Museum of Volcanoes there. She also carried a Navajo rug that Navajo Nation Speaker of the House Lawrence T. Morgan sent along to donate to the Museum of Russia - woven by his own mother.
"The folks at the museum were very excited to receive the rug," Cody said.
"I wanted to be able to travel during my reign as Miss Navajo Nation," Cody said. "My travels have helped me prepare for a crossover CD I've been working on."
Her travels have included a trip to South America through the U.S. Embassy, and a series of concerts in the Netherlands.
"Socially, we all share the same issues," Cody said of the Indigenous people she's met in her travels. "We all have environmental and social injustices, domestic violence and health issues."
She has enjoyed the differences she has observed.
"In Russia, everyone walks. The women are dressed up just like runway models in New York City. In the Netherlands everyone rides bikes."
"It's been a blessing to me to be able to travel like this," she added. "I have had no bad experiences. Everywhere I've traveled, I have found that people love and admire the Native American cultures. Traveling and sharing the Navajo culture has helped break down the stereotypes."
To view the written Russian language and more pictures of Radmilla Cody in Russia, go to http://news.vl.ru/vlad/2008/04/12/kodi/.
More like this story