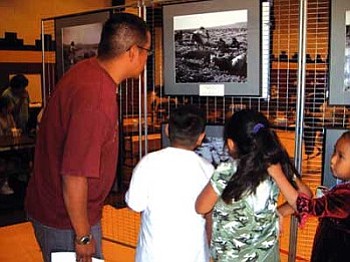 Originally Published: July 1, 2008 9:31 a.m.
KYKOTSMOVI, ARIZ. - This year marks the third year The Natwani Coalition, a program of The Hopi Foundation, brought the 2008 Hopi Agricultural and Food Symposium.
In the Hopi language the event is known as "Natwani Hopiit qatsimkiwa'at." The word "Natwani," literally means produce or vegetables and refers to the process and ritual necessary for the rejuvenation of all life. Traditionally, it is the intact web of obligation and activity involved in the planting, harvesting, processing, hunting and gathering of food.
From June 9-11, the symposium offered guest speakers, workshop sessions on compost building, wild food foraging, double dug lasagna gardening, and Hopi terrace gardening. In addition there were informational booths, cooking demonstrations, interactive youth learning activities, a Hopi agricultural photo exhibit, a preview of a documentary film titled 'King Corn," produced by Bull Frog Films, a fun run, and much more.
This year's symposium events were held at Hopi Day School in Kykotsmovi. Some of the topics covered by presenters were "Hopi Farming Practices" by Micah Lomaomvaya, "Public Discussion on Protection of Hopi Seeds" by Clayton and Margaret Brascoupe, "Corn, Plays an Important Role in the Hopi Wedding Ceremony" by Hopi men and women, and "Did you know ... 80 percent of you is Corn?" by Samantha Lee and David Piqosa.
This community event is one way that the Natwani Coalition works toward preserving and restoring the healthy food system and agriculture traditions of the Hopi and Tewa people. It is in keeping with its mission to develop innovative strategies in order to address diet related health issues, preserve Hopi farming traditions, and restore the local food system.
For more information or to volunteer, contact Leland Dennis, program coordinator at (928) 734-2390 or e-mail natwani_coalition@yahoo.com.