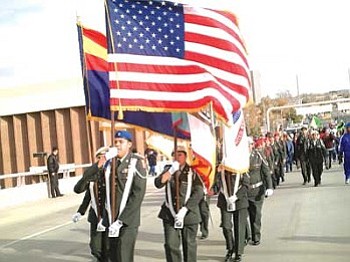 Originally Published: January 22, 2008 2 p.m.
ALBUQUERQUE, N.M. - On Sunday Jan. 13, 30 Hopi JROTC cadets participated in a parade in Albuquerque. The parade was in honor of the great Dr. Martin Luther King Jr., a man who changed history forever. This trip has been in the planning stage for about a year and a half by Joella Redmon, from the Dr. Martin L. King Committee of Albuquerque, N.M. In addition, this parade was a prelude to the JROTC's upcoming visit to Hawaii, which will occur from Jan. 18-23. This will be their second visit.
The cadets departed Hopi High at 10 a.m. on Jan 12. Participating in an activity in Albuquerque was a first for everyone, because most of the activities that the Hopi JROTC cadets have participated in are in Arizona. On the way, they traveled in their blue uniforms so that anyone they came in contact with would know that they were the Hopi High JROTC cadets.
On the day of the parade, the cadets arrived early because they wanted to get some practice before marching. At 10:00 a.m., they arrived at the starting point of the parade. The parade didn't start until 2 p.m. Even though the weather was slightly chilly, the cadets got into formation while the Color Guard team got their flags and rifles.
For four hours the cadets marched and shouted; when it was almost time for the parade to begin, people started arriving. While the cadets continued to shout, onlookers stood to watch.
Shortly, a local celebrity from Albuquerque named Caleb Crump interviewed some people who were at the parade. He stood in front of the Hopi JROTC Battalion; afterwards he let the cadets say a few words to the camera. Many of the cadets did not know that reporters and photographers would be at the parade, so it made them a little nervous.
When the parade started however, they cleared their minds of everything and did what they do best. During the two and a half mile march downtown, many more cameras were set up on the sidewalks; photographers were even running to try to get a picture of the Hopi JROTC cadets. This motivated the cadets a lot because it made them want to do a good job, especially because many people would be watching them on television and the Internet.
When the cadets finally neared towards the end of the two-mile march, they were able to relax. They drank hot cocoa and watched guest speakers talk about what Dr. Martin Luther King Jr. did to make this land a better nation. After just a few minutes, it was already time for the Hopi JROTC cadets to return home. During the cadets' trip, they received a lot of compliments from people who said that they were all very well behaved and did an excellent job.