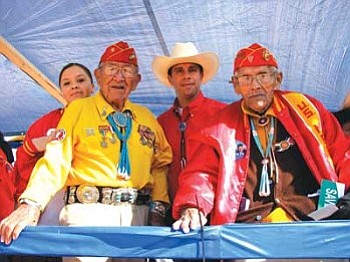 Originally Published: January 16, 2008 11:40 a.m.
FLAGSTAFF - The candidates for Congressional District 1 are vying for support from the Navajo Nation and other tribes in the District currently represented by Republican Rick Renzi. Following a presentation to the Chinle Agency of the Navajo Nation, a resolution of support for Democratic Candidate Howard Shanker was passed. At the end of December 2007, Shanker received a similar endorsement from the Western Navajo Agency. Last summer, during President Shirley's State of the Nation address to the Navajo Nation Council, Shanker was honored with a ceremonial blanket and plaque for his outstanding service to the Navajo Nation.
Arizona Congressional District 1 is heavily populated with Native Americans, a constituency that accounts for almost a quarter of the District's voters. Of the many tribes represented in this district, the Navajo Nation is by far the largest. The Shanker campaign, which emphasizes "accountability, sustainability and responsibility," resonates with a wide swath of Native American and non-Native American voters throughout the District.
It is still early in the process, but within the Native American community, Shanker has already been endorsed as a candidate by the Dine Hataalii Association, a prestigious association of more than 300 Navajo medicine men and women. Shanker also has strong ties with and support from 'Azee'Bee Nahagha' (Native American Church) of the Dine' Nation.
Shanker has received endorsements from various Navajo Chapters including the Tuba City Chapter, Bird Springs Chapter, Coal Mine Chapter and Cameron Chapter. Last fall, Shanker was named as the Grand Marshal in the recent Western Navajo Fair and Parade.
In November, Shanker helped represent the Navajo Nation at Congressional Committee hearings in Washington D.C. to pressure the federal government to clean up uranium contamination on the reservation. As an attorney, Shanker also represents the Navajo Nation, the White Mountain Apache Tribe, the Yavapai-Apache Tribe, the Havasupai Tribe and others in the case that, to date, has succeeded in halting the federal government from allowing the use of reclaimed sewer water to make snow on the sacred San Francisco Peaks-a site that has religious significance to 13 of the tribes in the southwestern United States.
Among Shanker's individual Native American supporters: the Chairman of the Hopi Tribe, Navajo Code Talkers, Apache Medicine Men, Rodney Grant (actor from "Dances with Wolves"), and Russell Means (political activist and actor from Last of the Mohicans), as well as the Colorado River Indian Tribes.
To learn more about Howard Shanker and his campaign, go to www.Shanker2008.com. Campaign news is also available at www.myspace.com/HowardShanker.