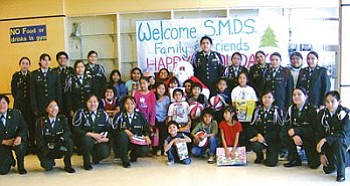 Originally Published: January 2, 2008 5:41 p.m.
To receive an early Christmas present from Santa for making the honor roll can be a magical moment for any child. On the morning of Dec. 20, the Hopi JROTC cadets conducted their annual toy drive. They went to Keams Canyon Elementary School, Second Mesa Day School, and Hotevilla/ Bacavi Elementary School.
When the cadets arrived at each of the schools, they unloaded the bus and fell into formation. They each were given a present for a boy or girl. Then they all marched into the schools where the children were anxiously waiting. As soon as they saw Santa, all of them shouted with excitement. He checked his list once and was "checking it twice" so that no child was left without a toy. When all the presents were given out, Santa let them open the gifts. Many of the children took pride in what they had received.
For weeks, the cadets had been working extra hard by donating toys and stuffed animals to the drive. Also, many of them maintained their good grades so that they could participate in giving out the gifts that day. The JROTC cadets were really stretching their limits by doing both Christmas grams and the toy drive. It was a lot of work for the cadets, but they managed it very well. The 22 cadets that went had fun giving out presents to the little ones-some of them even knew the cadets. Dec. 20 was a very fulfilling day for both the cadets and children. Nothing is more rewarding then a smile from a little child, especially when you know that you helped put it there.