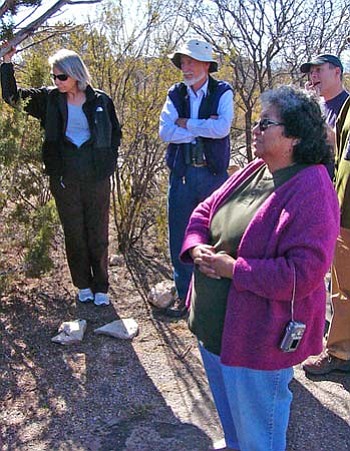 Originally Published: February 19, 2008 2:33 p.m.
McGUIREVILLE - According to Jessa Fisher, assistant Arizona Ethnobotanical Research Association (AERA) herbarium curator and president of the Flagstaff Chapter of the Arizona Native Plant Society, botanists are not always aware of the indigenous uses of the plants they study.
Fisher was one of 130 amateur and professional Arizona botanists gathered for the Fifth Annual Arizona Botanists Meeting, held at the Desert Botanical Gardens in Phoenix Feb. 8 - 10. Over 30 of the group attended an ethnobotanical plant walk held at Montezuma Well National Monument.
The walk was led by respected herbalists Theodora Homewytewa, a Hopi medicine woman, and Phyllis Hogan, the director of the AERA located in Flagstaff.
Hogan and Homewytewa share interest in the ethnobotanical record of the Little Colorado watershed, and have studied rare and endangered species of plants that grow in association with Senom archaeological sites on the Little Colorado River watershed.
"We consider the plants to be the most important aspect of our cultural heritage. That's why we study and teach the younger generations how the ancestors respected and used the plants," Hogan said. "Humans are the legacy of the plant world."
Hogan introduced the traditional protocol of plant collection.
"One must sit with the plant and ask its permission for use, and give an offering of corn meal or corn pollen or tobacco," Hogan said. "If you don't have these you can leave whatever is sacred to you. Sitting with the plants gives you a vibratory connection with the plant."
She further explained that one must not collect in the traditional gardens of others, and one must never take all of one plant, nor too much from one area."
Hogan introduced Montezuma Well as a sacred place to the Yavapai and Hopi people.
"This is the emergence place to the Yavapai, a very important place in the cultural memory of the elders. It is here that they come for special healing. People would bring their babies here for a blessing. Pilgrimages by Hopi priests are made here-not all Hopi would come here, or often," Hogan explained.
Homewytewa and Hogan first introduced Juniperus coahuilensis, (or Juniperus arizonicus), distinguished by its pink berries.
Homewytewa began by explaining that there was much information from the Montezuma Well area that she could not share with the group due to its proprietary knowledge. That said, she went on to describe that juniper was the leading medicinal tree for her tribe.
Homewytewa described its uses for purification in tea, smoke and ash forms.
"You can prepare a tea by soaking the green branches in boiling water until it is yellowish," Homewytewa said. "You can drink the tea to push the toxins in your body out. Make sure that you drink this tea on a weekend or on a day or two when you have absolutely nowhere to go because you will be having the toxins come out in various ways beyond your control."
The tea, Homewytewa said, can help with athlete's feet or psoriasis by soaking or bathing the affected areas.
"It is used for purification," she explained. "It can be burned, and the ashes can be used. If you feel that your house is "cluttered" and uncomfortable, burn juniper. You should leave the windows open a little so that the bad energy in the home can escape. You can put a pinch of the ashes in your hominy stew.
"The seeds of these berries are sucked on and eaten, and the little hard seeds within the fruit are dried, pierced and strung into necklaces. When you wear them, they keep bad energies away from you," Homewytewa said.
Juniper is also used for private sweats in Hopi birthing practices. After birth, Hopi women are offered a personal cleansing sweat, Homewytewa explained, adding that her people do not sweat with the opposite sex.
"Female and male energies are different-if a woman sweats with the men, she can take their energy. If a man sweats with women, it is the same, he can take the women's energies. Another thing about sweating with people of the same sex-if someone is having bad thoughts or an illness [mental, spiritual or physical] this can be transferred to you by sweating together," Homewytewa explained.
Moving on to chaparral, Hogan explained that because she grew up in the desert of Tucson, she equated the smell with rain in the desert.
"Chaparral can be used in a tea as an antimicrobial and topical wash, or used for athlete's feet and body odor," Hogan said.
Homewytewa said that the Hopi use it as a medicinal tea although many people western botanists believe this cannot be done.
"The secret is to boil the leaves once, and when the oil rises to the top of the water, you pour this off," Homewytewa said. "Then you take those same leaves and place them in another pot of water, and this time you can drink that one. The first water can be used as a topical application.
"The most important thing everyone must remember when using herbal medicines and remedies is that every one is different," Homewytewa cautioned. "Our bodies and systems are different, and one must be careful and experiment gently at first to make sure that the treatment doesn't hurt you."
The group also learned about buffalo fur, useful after surgery or childbirth, and wild tobacco.
"It is usually the men who harvest this," Homewytewa said. "It is very sacred, and not to be smoked like a Marlboro, only for sacred things, like you can pray for rain and for harvest and for good things to come. The men of the Tobacco Clan roll this up and blow the smoke into the ears of children and people who have earache."
Finally, the group learned about ephedra, also known as Mormon Tea, which is used as a blood purifier and for congestion.
As the group rested at the top of the well, Homewytewa described her life as a young child destined to be a medicine person. Her own training began when she was five years old.
"My grandparents told me that I had the gift to be a medicine woman," Homewytewa said. "I was taken out by my uncle and I was expected to learn certain lessons. I could not play like the other children until I had learned the lesson of the day. By the age of ten, I was learning very fast, so that I could go out and play with my playmates."
Her training was very involved, and included more than just the healing properties of the plants around her. She also learned other important knowledge, such as how to set bones, and laughed as she remembered how her family members used to try and trick her.
"Many times I was in tears because I wanted to go out and play like the other children," Homewytewa shared.
Homewytewa spoke nostalgically about the days when the Hopi people all gathered and used wild food.
"Now few people collect and eat wild food," Homewytewa explained. "I was raised by my grandmother and uncle, and back then, people would get cravings for certain foods that were available at certain times. People used to say, 'Oh, it's almost time to go out and pick wild spinach. I can't wait to taste that again.' But young parents aren't teaching this to their children anymore."
Back in Phoenix, the lucky botanists who had participated in the walk expressed their appreciation.
"Participants thoroughly enjoyed the walk, which was a great first field trip of the season," Fisher said. "Several people came up to me during the conference saying how much they had learned and how excited they were to learn about the plants of the Verde Valley."