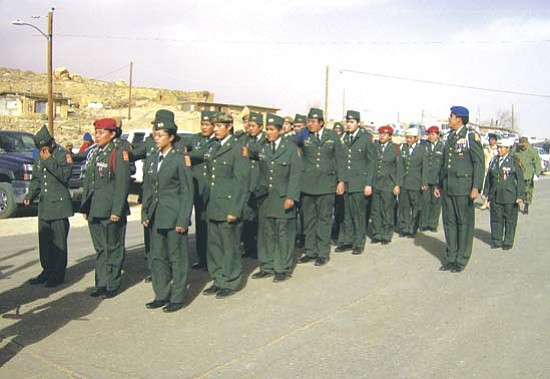 Originally Published: December 17, 2008 3:23 p.m.
KYKOTSMOVI, Ariz. - Once again the Hopi Bruin's JROTC had another triumphant parade. There were 30 cadets that came and participated in the Kykostmovi Christmas parade on Dec. 13 at the village of Kykostmovi. The parade was about a half a mile long.
The cadets arrived at the parade at 12:00 p.m. and fell into formation along with the Color Guard team to practice their cadences and commands. Cadet Lieutenant Colonel Ryan Carl and Cadet Captain Tasha LaBahe lead the Battalion in the cadences. The Color Guard team was lead by Co-Captain RaeLyn Harvey.
When the parade started the cadets were ready to show their stuff to their fans. When the battalion reached the judge's stand, the Color Guard did a spectacular job presenting the Colors. Then the cadets performed "Hey Hopi," to the judges and their nearby fans. The judges were amazed at how well the cadets did especially in the wind. During the parade many of the cadets had sand in their eyes, but they were still determined to be loud and stay focused.
Cadet Lieutenant Colonel Ryan Carl said, "Although it was windy and dusty, the cadets did a very good job and represented the Hopi High School Junior Reserve Officer Training Corps. program well."
More like this story