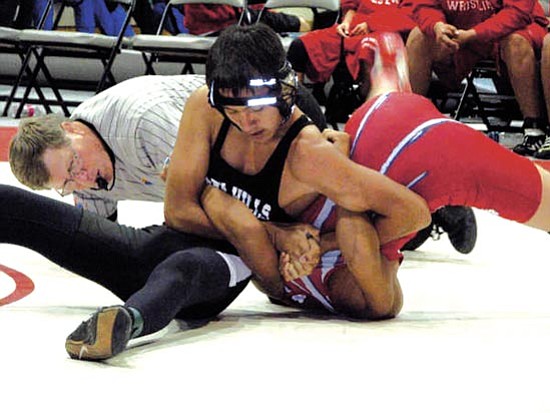 Originally Published: December 15, 2008 4:43 p.m.
TUBA CITY, Ariz. - At 103 pounds, Greyhills Academy sophomore Kevin Tso carries a calm demeanor while in class. But once he is on the wrestling mat, he knows that his work is cut out for him. Tso wrestled Ganado's Bryan Bitsui to win the 103-pound weight class at the Pat Kenny Invitational hosted by Holbrook High School on Dec. 5-6.
Tso shares his championship with his team and continues to practice hard. He wants to continue to do well this season. Greyhills Academy entered six wrestlers and finished seventh overall out of 14 schools. Other wrestlers placing at Pat Kenny is senior Garth Manygoats, 215, third place; senior Garrett Manygoats, 135, fifth place; freshmen Darrell Yazzie, 160, sixth place and junior Francita Bitah, 112, sixth place. Bitah was the only female wrestler to place at the tournament. The host team Holbrook won the tournament with 196 points, Winslow took second place with 169, Mountain Ridge placed third with 161, in fourth was St. Pius with 142 points and Monument Valley rounded out the top five with 129 points. Monument Valley's Ty Sells won the 160-pound weight class.
On Dec. 10, Greyhills Academy (2A) hosted an eight team wrestling multiple. Invited teams included Page (4A), Monument Valley and Ganado (3A), and Red Mesa, Hopi, Many Farms and Pinon (2A). Teams competed in a two-pool format before matching up against the opposite pool. With a five match rule, the majority of wrestlers got the opportunity to wrestle five times.
Page finished the meet with a 5-0 record winning all their duels vs. Ganado (66-6), Red Mesa (42-32), Many Farms (64-16), Hopi (66-6) and Pinon (66-18). Monument Valley also went 5-0 vs. Greyhills (46-30), Hopi (46-15), Pinon (36-27), Many Farms (42-39) and Ganado (66-18).
The two teams did not match up in any of the duels. Host school Greyhills went 3-2 winning duels against Pinon (37-36), Hopi (42-23), Many Farms (36-28) and losing to Red Mesa (28-30) and Monument Valley (46-30).
Red Mesa went 2-3 winning against Greyhills (30-28), Hopi (60-12), Ganado 2-3 with wins vs. Red Mesa (38-24) and Pinon (40-30), Many Farms 2-3 with wins vs. Red Mesa (45-36) and Ganado (42-41). Both Pinon and Hopi High School had some close matches in their duels but did not win any of their duels.
Greyhills Athletic Director Toney Begay stated he is happy with the way the duels turned out and how close and exciting a lot of the matches were.
More like this story