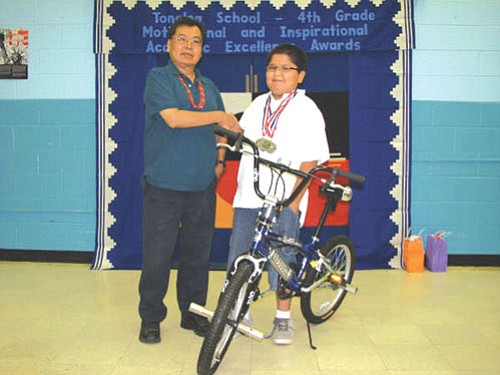 Originally Published: August 26, 2008 2:43 p.m.
TONALEA, Ariz. - On Aug. 16, Roger Blake, Tonalea School's fourth grade teacher held his Seventh Annual Motivational and Inspirational Academic Excellence Awards presentation for his students. With his family's support, the Blakes have sponsored this event that recognizes achieving students with a luncheon and trophies
Normally slated for the latter part of May, unforeseen circumstances postponed the ceremony. Nevertheless, the 23-year veteran of Tonalea School acknowledged his passion to teach and receptive students and parents listened as he announced his awards that lasted over three hours.
"I feel like I taught something, that's how my family and I came up with the Motivational and Inspirational motto." Blake said. He talked about the importance of an education and mathematics that could lead to careers in engineering, scientist, and mathematicians.
Over $1,500 was spent assembling the ceremony, complete with certificates, plaques, trophies, medals and a bicycle. Blake acknowledged how hard his students have worked throughout the school year.
"I wanted to [give] back into the community. Often we as teachers are labeled for making the money and not giving back, but I do this for the parents and grandparents that contribute to my well being. I grew up in Cowsprings and I appreciate all of you I want to motivate and inspire to further their education," Blake said.
The former fourth graders were also given recognition for achieving individual Adequate Yearly Progress (AYP) in areas of reading, math and writing portions of the test. Blake said the Diné education philosophy helps with teaching students and helping them understand their own learning process.
Student awards were in art, science, social studies, language arts, mathematics and citizenship. Special awards included most improved, outstanding awards, perfect attendance, honorable mention and honor roll awards.
Trophy awards were for Excellence Recognition and Highest Honor Awards. Mykelti Curley, whose High Honor Awards were complimented with eight achievement medals, perfect attendance, won the bicycle.
Curley then acknowledged Blake. "I want to thank Mr. Blake for doing what he did, his family for the food and awards. He is the only teacher I know to do this for his class. Thank you shi nail."
Parents also gave acknowledgements on how the Blake family went above and beyond for their children. Linda Curley, PAC vice-president, and former Tonalea teacher Yolanda Moreno each expressed their appreciation.
Moreno stated, "I want to thank Mr. Blake for helping me and my son Bryan, you really pushed us and by getting on our case to improve towards AYP. I appreciate Mr. Blake for integrating Diné philosophy into his teaching."
Former Tonalea counselor Lilly White commented on how inspiring Mr. Blake's awards made her feel,
"I wish I could have received such recognition growing up, it took a lot of self determination for some of us to be where we are today," White said.
Blake encouraged his former students to use this event as a stepping stone towards their future. Students receiving awards were Tamara Slim, Alexander Cling, Keoni Quinonez, Ashley Betony, Tanie Begaye, Ohniya Blackhorse, Jaz Cody, Armondo Cordero, Utahana Dayzie, Kendrick Fowler, Laquisha Grayhat, Kayla Lameman, Mckeisha Nez, Chandler Smith, Annalisha Watson and Grace Yazzie.