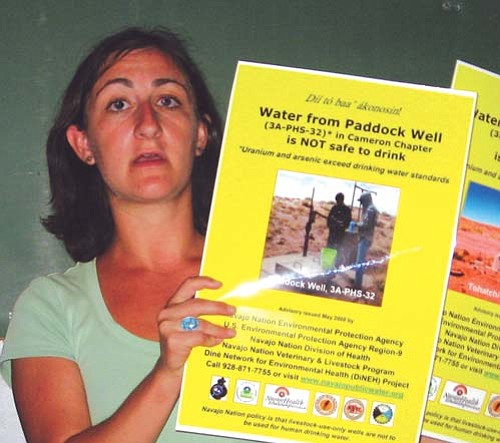 Originally Published: August 19, 2008 11:04 a.m.
BLACK FALLS, TUBA CITY, Ariz. - Officials from the U.S. Environmental Protection Agency (U.S. EPA) Region 9, Navajo Nation EPA (NN EPA), and the Indian Health Service (IHS) met with residents of Black Falls and Tuba City on Aug. 10 and 11 to discuss concerns about access to safe drinking water. The meetings were organized by the Forgotten People Community Development Corporation (FPCDC), a grassroots organization representing communities in the western portion of the Navajo Nation, and were attended by over 100 people.
The government agencies are part of an interagency task force creating a five-year plan to address the health and environmental impacts of uranium contamination on the Navajo Nation. Participants included:
• Clancy Tenley: Associate Director Communities & Ecosystem, U.S. EPA Region 9;
• Zoe Heller: Environmental Protection Specialist, U.S. EPA Region 9;
• Linda Reeves, U.S. EPA Region 9;
• Lillie Lane, Navajo Nation EPA;
• Philbert Morgan, Navajo Nation EPA;
• Michael Koehmstedt, IHS
As many as 90 percent of the residents of the former Bennett Freeze lack access to running water, and consumption of water from contaminated sources has been linked to cancer and other health problems. Black Falls and Tuba City are both designated EPA Superfund sites because of contamination leftover from uranium mining.
The meetings on Sunday took place at the FPCDC offices in Red Lake and discussed the ongoing collaboration between the EPA and FPCDC. The EPA is committed to working directly with grassroots organizations to make its programs more effective and to satisfy mandates for achieving environmental justice.
Arnold Yellowhorse, president of FPCDC, chaired the meeting. Also attending the meeting was Rita Sebastian, a graduate student from Brandeis University, which is supporting the EPA /FPCDC collaboration through its Capacity Building Initiative at the Heller School for Social Policy.
The activities on Monday began with a tour of Black Falls uranium sites led by Milton Yazzie. Next, a community meeting was held at Black Falls to discuss uranium contamination and lack of access to safe drinking water and to review problems in past remediation efforts. Finally, a meeting was held in Tuba City and was attended by people from Tonali Lake, Gray Mountain, Cameron, Moenave, Tonalea, Bodaway/Gap, Cedar Ridge and Black Mesa.
Eleanor Peshlakai of Black Falls summed up the feelings of many participants. "What we want and what we need is safe drinking water. We used to go to the washes to dig up water for our livestock and for drinking water. That is why we have a lot of health problems. We have a contaminated life here. Our water wells are contaminated. Our homes are contaminated - built with mortar contaminated by uranium. This has been a 40-year struggle. Action is what we need. We need safe drinking water, barrels, storage tanks, water pumps at our homes."
For more information about FPCDC, attend the weekly meetings held every Monday night at 6 p.m. (DST) at Debbie Yazzie's residence south of the old airport in Tuba City.