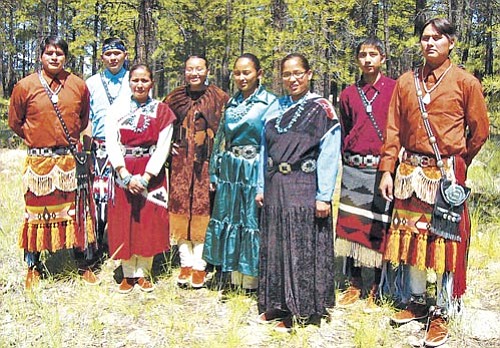 Originally Published: August 5, 2008 5:56 p.m.
FLAGSTAFF, Ariz. - The 59th Annual Navajo Festival of Arts and Culture, held Aug. 2 and 3, had something for everyone. Over 80 artists, presentations, the Museum of Northern Arizona's gift shops, food and cold drinks and more made for an exciting and entertaining weekend.
David D. Draper took Best of Show with his carving, "The Emergence."
"There are stories of how the horse was created, but mine is how Mother Earth brought the horse to the Navajo," Draper said.
Within a carved basket, Mother Earth - with comely classical features and high-spread wings - leads two horses forward. The four directions of the piece display the white, blue, yellow and black colors of the four directions. Swirling winds moving across the bottom of the piece are delicately colored with intricate yet subtle storm patterns from Navajo rugs.
Horses hold a special place in Draper's life.
"I grew up around my grandparents' ranch, and animals were my first models," Draper said.
Horses were his favorites - Draper wrote in his biography that this was because of their colors and personalities, but mostly because of their strength, beauty and free spirit.
Draper made the transition from paper to stone and wood at the Institute of American Indian Arts in Santa Fe. He has learned to compliment the natural patterns of cottonwood, cedar and stone - masterfully combining dark and light pastel colors to enhance the beauty of his medium.
Generations of artists continue to exhibit at the MNA festival.
Edith Simonson and her mother, Alice Nez Horseherder, who is 101 years old, are members of the Herder family weavers of Hardrock. Both busied themselves spinning wool into yarn as visitors to the museum studied their natural dyed rugs.
The elderly matriarch still travels with her extended family, Simonson said.
"I weave at home and serve as my mother's caretaker. I make sure she keeps busy," Simonson laughed. "She still likes to travel."
A newspaper article, as well as a small poster promoting a movie that Horseherder starred in last year, sit on one of Simonson's tables and stand testimony to late stardom. The centenarian generated an amazing amount of excitement as festival visitors recognized her.
"Sometimes she talks about being the last one left from her generation," Simonson said. "But some of her great grandchildren say that she will live forever."
Simonson's grandsons René and Ryan Simonson were also with her. Despite his young age, Ryan is an impressive bead worker - and was making steady sales, much to the interest of his younger brother.
Tony Begay is Shonto Begay's little brother, and relatively new on the art show trail. He admits his famous brother is an inspiration to him - and that Shonto and their sisters have pushed him out into public shows. Tony began working with paints about five years ago - his style leans towards realism, but he clearly admires his daughter Molena's expertise in the abstract.
Molena is four years old, and according to her father, very excited to have sold one of her paintings.
"She uses a brush, but she might as well be finger painting; when she's done, she has paint all over herself," Begay said.
Johnson Yazzie has returned to the festival after six years. Though he now makes his home in Heber, he is originally from the community of Pinon. This full-time artist specializes in oils and pastels.
"I didn't enter any pieces in this year's competition," Yazzie said. The cost of gasoline this summer allowed the artist to travel to the show and secure a booth, but did not allow for entry fees into the juried competition.
"Gasoline is a big issue for artists. Traveling to shows [is] our bread and butter," Yazzie explained. "In the past we could get on the road, spend money on motels - some people have [money,] some of us don't. Like most artists, I have a family to feed."
But Yazzie immediately shifts to his love for his art - and to a painting that shows promise of selling.
"Two people have gone home to measure their walls," Yazzie said.
Attention to detail is enormously important to this artist - the painting in question, "Navajo Card Sharks," bears witness to this. At the right side of a group of male gamblers is a player leaning into his splayed fingers atop a spread of cards. Yazzie pointed out that hand-a miniscule portion of the painting.
"I didn't have it right," Yazzie explained. "I had friends model that pose and reworked that hand until it was right." Yazzie demonstrated the spring-like coil action of the hand he had worked so hard to capture.
It is the attention to detail that catches the eye of the beholder - who cannot help but admire the striking realism of Yazzie's work.
At the other side of the spectrum is the playful, almost whimsical work of Michelle Tsosie Sisneros, who is half Navajo/half Pueblo. This self-taught artist draws the viewer into her work like a moth to flame into pure joy of life.
"I've always drawn," Sisneros said. "Painting came naturally to me. My work is ever-evolving.
"The images I paint are from the people who have touched my life in a profound way and the Mother Earth I live on. I paint in a semi-traditional abstract form because that is how I see the Mother Earth," Sisneros stated. "I began writing poems and short stories about each of my paintings as I feel there is a message to my work that I would like to pass on to those who take a piece home."
Watching visitors to Sisneros' display quickly reveals that to many, the stories are as important as the paintings.
Many of Sisneros' paintings depict comical ladies, willowy and colorfully dressed, hair twisted into long ponytails and high knots, involved in women's work -motherhood, preparation of food, and when the work is done, off in groups for sisterly camaraderie. Horses and flowers, bugs and birds also populate Sisneros' colorful world.
Husband Murphy Sisneros describes his life with Michelle as an "in-house operation," and indeed, their operation is a model of self-employment success.
"She cuts her own mats, makes paper; I transfer her images onto tiles, cards and prints. I take care of the packaging.
"We work well together," Murphy admits. "I've always appreciated art, but I got involved in the realm of technology. We like to have something for everyone, so we make something for everyone. Not everyone can afford an original painting, but they can afford a set of cards or a tile."
Michelle had expressed a desire to return to her art - something her husband fully supported.
Outside under the Heritage Insights tent, recording artists Radmilla Cody, Gabriel Yaiva and the band Blackfire wove their voices with dances by the Pollen Trail Dance Group. Pollen Trail's guiding force, Brent Chase, gamely taught the audience words in Navajo during a fashion show that featured his own designs.
"I had to learn to sew," Chase teased. "I had to make my own clothes in college."
Theresa Boone Schuler led ethnobotany walks along the stream in front of the museum entrance, talking about Navajo uses for many of the plants along the trail.
Weaving demonstrations were given by Morris Muskett, the Herder family and Lola and Melissa Cody.
Zonnie Gorman spoke to a large group about "Growing Up with Heroes: The Navajo Code Talkers," a personal story that included her father, Code Talker Carl Gorman.
Basketry and pottery were demonstrated by Sally Black and Alice Cling.
As always, the event closed each evening with festival-goers walking slowly to their cars or the shuttle stop, laden with their purchases - and an intent to return to next year's event.