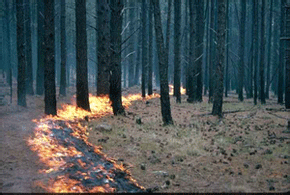 Originally Published: August 5, 2008 3:04 p.m.
FLAGSTAFF, Ariz. - This year marks the 100th anniversary of the establishment of the Nation's Experimental Forests and Ranges. In honor of this milestone, the founding of the Fort Valley Experimental Forest, the first in the country, will be celebrated during a three-day event, scheduled for Aug. 7-9 in Flagstaff.
Administered by the U.S. Forest Service, experimental forests and ranges are a nationwide network of outdoor living laboratories where scientists not only make discoveries, but also demonstrate how their findings can improve management of our nation's forests and rangelands.
Fort Valley was established in 1908 near the base of the San Francisco Peaks north of Flagstaff after local lumbermen asked Forest Service Chief Gifford Pinchot to investigate why ponderosa pine forests were not regenerating after logging. Researchers studied natural and artificial regeneration, stand improvement, climate - everything that might influence a tree's life. Recommendations from studies at Fort Valley helped guide management of ponderosa pine forests throughout the southwestern United States for decades.
In addition to the early ponderosa pine studies, scientific investigations looked at range monitoring, weather, fence post durability, logging, turpentine production, and timber sale monitoring. More recent studies involved forest pathology, forest restoration, wildland-urban interface treatments, and fire effects.
Today, the Fort Valley campus is listed on the National Register of Historic Places and is eligible as a National Historic Landmark. Archives generated at Fort Valley include photographs, maps, correspondence, and reports, which are maintained by the Agency's Rocky Mountain Research Station (RMRS). More information about the RMRS can be founb at www.fs.fed.us/rmrs.
The celebration will take place at the High Country Conference Center on the Northern Arizona University Campus. Invited speakers include national, state, and local officials, representing the Forest Service, University of Arizona, Northern Arizona University, and other groups and institutions. Poster sessions, panels, field trips to Fort Valley, and other events will highlight the many significant aspects of research at Fort Valley over the past 100 years.
More information about the Fort Valley centennial celebration and conference registration is available at www.rmrs.nau.edu/fortvalley/centennial.