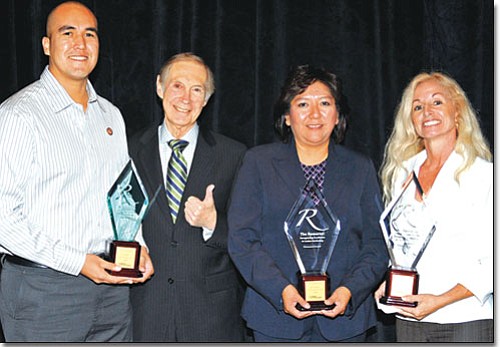 Originally Published: August 5, 2008 1:37 p.m.
CAMP VERDE, Ariz. - Cashing in on their marketing efforts, Cliff Castle Casino took top awards in several categories at the Romero Awards held at the Paris Casino in Las Vegas, Nev. on July 24.
The Romero Awards, casino marketing pioneer John Romero's coveted honors, recognize excellence in casino marketing efforts. Over 3,000 casinos worldwide are eligible to receive the awards. Categories include PR Campaign, Casino Floor Promotion, Direct Marketing, VIP Promotion, E-mail Marketing and Web site Marketing. Ranking levels within each genre are Honorable Mention, Silver, Gold, and the top award, Diamond.
Cliff Castle Casino received a Diamond Award for the PR campaign for "Thunder Valley Rally," an annual charitable event involving motorcycle riders. The 2007 benefactor was Save The Family Foundation of Arizona, an organization dedicated to assisting families who are homeless. More than $24,000 was raised in September 2007 for Save The Family.
A second Diamond Award was given for Cliff Castle Casino's "My Big Fat Super Tuesday" party floor promotion. This 24-hour affair commemorated four events in one; Fat Tuesday, Super Tuesday, the unveiling of 91 more gaming machines on the casino floor, and the casino's celebration for receiving the distinction of being voted the No. 1 casino in the state of Arizona for nine years in a row.
Along with the Diamond Awards, the casino received a Gold Award for Direct Marketing. Each month newsletters with coupons are mailed out to members of the Castle Club, the casino's player's club, allowing them to play a game and win cash prizes. The games and prizes vary from month to month. This direct marketing approach has led to increased membership during the award's qualifying period.
"We feel very honored to receive recognitions for our marketing efforts. Our goal is to provide the best in guest service and entertainment in the industry, and this certainly assures us that we are on the right path to maintain that goal," stated Trudy Clark, General Manager of Cliff Castle Casino.
Centrally located in Camp Verde just east of I-17 at exit 289, Cliff Castle Casino is proudly owned and operated by the Yavapai-Apache Nation. For information call the Castle Club at (928) 567-7999 or visit
www.cliffcastlecasino.net.