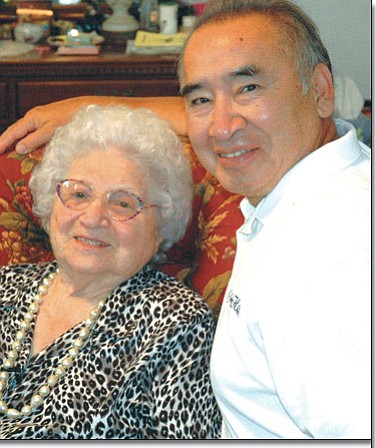 Originally Published: August 5, 2008 11:19 a.m.
SALLISAW, Okla. - Eva Gilbert, a citizen of the Cherokee Nation and an original enrollee of the Dawes Rolls, recently celebrated her 106th birthday.
"Eva is a wonderful lady," said Joe Grayson Jr., Deputy Principal Chief of the Cherokee Nation. "She has experienced much in her life and all of us at the Cherokee Nation wish her a happy birthday."
The Dawes Commission was established in 1893 to negotiate with the Five Civilized Tribes in an attempt to get the tribes to agree to an allotment plan. The Dawes Rolls were created to determine who would receive land allotments. The Rolls remain important today as tribes use descent from Dawes enrollees to determine tribal citizenship and the federal government uses the rolls in determining the status for Certificate of Degree of Indian Blood.
Gilbert was one of the over 100,000 Five Tribes citizens to sign the original rolls and is the oldest original enrollee of the Cherokee Nation.
"To live to be 106 you have to get to the business of living," said Gilbert. "Don't just sit around."
Eva continues to be proud of her Cherokee identity and remembers that as a child, her family had a lot of Cherokee friends that would visit.
"I'm glad to be a Cherokee Indian," said Gilbert. "My mother was proud of our heritage and so am I."
Today, Eva Gilbert, at 106, continues to be an active volunteer in her community by crocheting baby blankets for a local non-profit organization.
"It doesn't take long to crochet a blanket. I crochet them and someone from the organization picks them up and gives them to unwed mothers. I visited the organization once and saw one of the young mothers come out of the office with one of my blankets wrapped around her baby. I was so happy. I just wanted to take both of them home with me," said Gilbert.
She says that there's no real secret to staying young and living a long life.
"Oh, I don't know how I've lived to be 106, good genes I guess," said Gilbert. "I still get my hair done and I get dressed everyday. Taking care of one's self is important."
When asked about her favorite memories or moments in her life, she offered advice that anyone could learn from.
"Now, how can I answer that? All of my memories are precious, even in bad times there was something good that came of it."