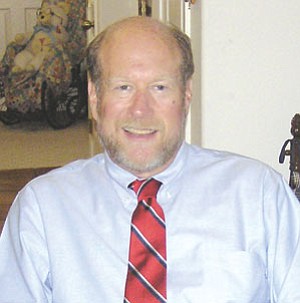 Originally Published: April 22, 2008 1:16 p.m.
FLAGSTAFF - My friend Roger Hartstone, 57, passed on March 27 leaving behind many friends on the Hopi and Navajo Reservations.
Many knew Hartstone from his Congressional bids against former Congressman Bob Stump. Nobody was unable to unseat Stump in the then-heavily Republican district, but Hartstone obtained the highest percent of any Democrat to run against Stump.
During his run for office, Hartstone was able to get former Hopi Chairman Ivan Sidney's endorsement. This was an accomplishment considering Sidney was a Republican.
Hartstone had a passion for causes. For several years, he helped Stars in the Desert in Tuba City where he met coordinator Vanessa Brown and many other friends. He also brought holocaust victims to Hopi High School so students could be educated about that experience.
Hartstone also educated himself about technology.
We live in an age of technology when our kids usually know more about computers and gadgets then we do, but Hartstone was always ahead of the loop. He was an Internet businessman before I knew the Internet existed. He always teased me about the need to have a laptop, cell phone, a digital camera and the knowledge of how to use Google. Thanks to Hartstone, I have all that.
Hartstone was also good at adapting. He had a law degree from Southwestern University in Los Angeles and in the past couple years became a pro tem judge in several locations throughout Arizona including Pinal County and Springerville.
He eventually found his niche as a professional mediator so he could show people how to solve conflicts without them taking each other to court. He was serving as the vice president of the Arizona Chapter of the Association for Conflict Resolution. He also became a professional mediator trainer as he taught others the skill.
Hartstone was a proponent of education as a journey through lifelong learning. He didn't see education as drudgery, but as an ongoing way of learning.
Hartstone had a tireless work ethic for whatever challenge he took on.
His attitudes about education and hard work paid off as his children Joey and Laura ended up highly educated and with great jobs. Talking about them was his favorite pastime. In this world where so many children get lost in drugs, alcohol, crime and dysfunctional families, having two highly successful children may be the greatest measurement of success.
Hartstone was also one of the most honest people I've known. It is possibly why he didn't win election because he didn't always tell people what they wanted to hear. He wasn't above letting friends know when they needed a reality check.
Hartstone, a Flagstaff resident for many years, believed in the First Amendment and freedom of speech, but he also believed people had the responsibility to do their homework and make their case when they wanted to get something done.
Hartstone and I enjoyed debating politics and sports. Occasionally, I'd get him out on a hike. Roger, you'll be missed.