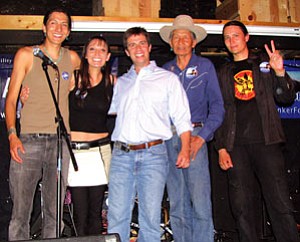 Originally Published: September 26, 2007 11:48 a.m.
FLAGSTAFF-Several hundred supporters of all ages and all walks of life cheered on Arizona's Congressional District 1 Democratic Candidate Howard Shanker at a "Rock the Peaks" concert fundraiser held Sept. 15 at the Mogollon Brewery.
Rousing entertainment was provided to the standing-room-only crowd by headliner Blackfire, a Navajo rock group well known to Flagstaff audiences, and Summit Dub Squad, who opened the set.
Joining Shanker and his wife Tamera were co-hosts Shonto Begay, Andy Bessler, Jones Benally and Blackfire, Hunter RedDay, George Castleberry and Debbie Leavitt.
Attendees included Sedona resident and Olympic gold medalist skier Suzy Chaffee and director of Green Sedona, Matthew Turner, as well as numerous local business people, artists, Indigenous elders and community activists.
As an attorney, Shanker has a long history of advocating for environmental causes, Native American rights and issues affecting Arizona communities. Shanker addressed the high-energy crowd between sets. At a break in the music, Ben Nuvamsa, Hopi Tribal Chairman told the crowd, "Howard Shanker is a good man-a man of integrity with true leadership ability."
Shanker's lively multi-media presentation and his common-sense message of accountability, sustainability and responsibility were met with cheers of support that continued throughout the evening. One guest commented, "We know Howard and what he has done and continues to do for us. He doesn't make empty promises ... This is the first time that I can remember actually being excited and motivated by a candidate for political office."
To learn more about Howard Shanker and his campaign, go to www.HowardShankerForCongress.com. You can also get campaign news and information at www.myspace.com/HowardShanker.