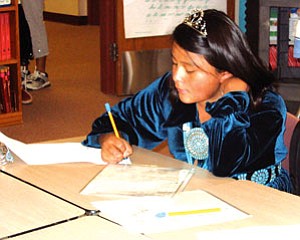 Originally Published: September 26, 2007 5:33 p.m.
CAMERON-Webster's dictionary defines culture and tradition as "the totality of socially transmitted behavior, patterns, arts, beliefs, institutions and all other products of human work and thought of a population or community at a given time. A style of social and artistic expression defined to a class or society. The act of developing social, moral, and intellectual faculties through education. Customs and usages transmitted from one generation to another and viewed as a coherent body of precedents influencing the present."
Webster's would have no problem finding this textbook definition in real life action at Dzil Libei's Elementary School.
Dzil Libei is under the direction of current acting principal Sharlene Navajo and along with the basic "reading, writing and arithmetic" curriculum, a well thought out weekly emphasis for its student population is also the cultivation of culture and Native American tradition.
Once a week, this satellite school of Tuba City Unified School District located 25 miles from Tuba City, has its students dress and participate in a "Native cultural day" to enhance and enrich its students in not just state required academics but to keep them reminded that as Native Americans they are special and unique to this country and that they have a responsibility to learn their own Native languages and customs to keep that Native tradition alive and healthy for generations to come.
Navajo says, "Its been easy to get the students to support and participate in this weekly day of culture, because many come from families who still speak their own Native language at home and still practice age old traditional activities as well as preparing Native traditional foods along with more convenient modern food selections available at the local supermarkets."
Practicing the Native way in their everyday school and classroom work has promoted heightened respect and more quiet and discipline in the classroom environment, students showing additional caring and understanding of how they are related to one another by Native clan or biological blood ties, and also how they are possibly related to their teachers and office administration.
This gives them a better sense of responsibility and patience, which helps them to focus on their studies especially in a group setting.
For more information about the weekly cultural day at Dzil Libei Elementary, call the TC District Office of Public Relations at (928) 283-1185.