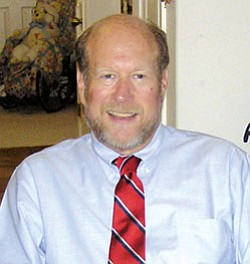 Originally Published: September 26, 2007 6:22 p.m.
FLAGSTAFF-Lawsuits and disputes can often be avoided through mediation.
Roger Hartstone, newly elected vice president of the Arizona Chapter of the Association for Conflict Resolution, wants to make sure that mediation and arbitration services are available to reservations.
The Arizona chapter is part of the national organization of mediators and arbitrators.
Mediators help two parties come to a mutually acceptable agreement while arbitrators make decisions after listening to two sides.
Hartstone, a Flagstaff resident, said both help people avoid courts. He said mediation and arbitration can help people make quicker and less expensive decisions than if they went to court. He has performed more than 300 mediations during the past three years.
"It's not as aggravating as going to court," he said.
Hartstone, who has a Tucson office, hopes to bring mediation to schools, businesses and social organizations throughout the state.
Residents of Navajo, Hopi and San Carlos Apache may be familiar with Hartstone because he ran for Congress in District 1.
Hartstone, who has served as a pro tem judge in Pinal and Apache counties, said he is not aware of any mediation services available on Arizona's reservations.
"I would like to bring mediation to non-cultural issues on the reservations," he said.
Mediation can involve just about anything including property rights, contractual rights or disputes among members of social or community organizations.
"The idea is to resolve the problem before it escalates into lawsuits or physical attacks," he said.
"If any schools, chapters or communities wish to hire my company, then I would like to work with them on mediation conflict resolution."
Hartstone, who has a law degree from Southwestern University in Los Angeles, Calif. has mediated truancy problems for schools. He finds out what causes the students to be truant and works with them so they want to come to school.
He has also taught peer group mediation to students and teachers. He trains teachers to serve as peer mediators to students.
"Peer mediation helps students learn about problem solving," he said. "That helps students come up with long lasting solutions to their problems."
Hartstone said students are more likely to solve their problems when they work with other students rather than having adults intervene.
One of Hartstone's first duties will be helping to publicize, prepare and host the seventh annual national mediation and arbitration conference in Phoenix Oct. 24-27.
Hartstone also plans to establish a statewide speakers bureau and increase the group's membership.
Hartstone said mediators must have patience, wisdom and a creative way for solving problems. Many mediators in Arizona go through a 40-hour training course that is sanctioned by the Arizona Supreme Court.
Hartstone said mediation provides efficiency and the power of agreements.
"Mediation demands the ability to listen and to reflect on what the parties want--and not the words they use. People often feel wronged and want resolution, but don't know what exactly they want," he said.
For more information, call Hartstone at (520) 425-6886 or go to www.properprocess.logspot.com.
More like this story