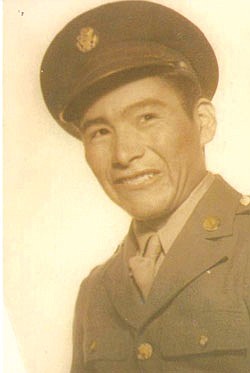 Originally Published: September 11, 2007 1:50 p.m.
Editor's note: This is the second part in a series of articles. See the Sept. 5 edition of the Observer or visit
www.navajohopiobserver.com to view the first portion of the article. The next portion will be published in the Sept 19 edition of the Observer.
My grandfather remembers they included a picture of my him in a letter they sent to Nelson Lewis. In one of the letters Nelson Lewis wrote he said he laughed when he saw the picture of "John Tsosie." As my grandfather told this part of the story, he laughed, too. It was great to hear my grandfather tell the story.
The twinkle in my grandfather's eyes and the happiness in the sound of his voice when he talks about his brother is what makes every minute worthwhile for me. I would do most anything for both my grandparents; they are, after all, the essence of my being. I knew at this moment I should do something more.
All those many years ago the language barrier and financial barrier kept my great grandmother and my grandfather from learning more about Nelson Lewis. All they knew was what was translated to them in Navajo back then. After Nelson Lewis' death they were given a flag, a Purple Heart medal and the medals he wore on his uniform. When my great grandmother died in 1980, my grandfather gladly took ownership of the memorabilia.
Sadly, in December of 1991 almost everything that my grandfather had left of his brother, including an 8 x 10-inch picture of Nelson Lewis taken while he was in uniform, were destroyed in a house fire. Again, my grandfather was devastated with this loss. This had been my grandfather's prized possession.
Ever since that day I began asking my grandfather questions about his brother; it has been eating away at me. A few weeks ago I could not sit around and think about it anymore. I had to do something about it or else I would never forgive myself for not trying to find out more information. Since I have access to the Internet at home I decided to jump on it right away. I started searching for information on Nelson Lewis.
The power of the Internet is amazing. To my surprise I started to find information. According to Army records, Nelson Lewis was drafted on Sept.12, 1943. He was classified as a private in the U.S. Army. I found his name on a list of World War II casualties from Arizona. He was killed in action. I also found the place of his burial at the Golden Gate National Cemetery in San Bruno, Calif.
As soon as I found out where he was buried I called the Golden Gate National Cemetery without even a second thought. I asked the person who answered the phone if there was any way that anyone could take a picture of Nelson Lewis' gravesite and send it to me. They referred me to an individual named Kathleen, Director of Administrative Operations at the Golden Gate National Cemetery, and provided me her e-mail address. Immediately, I sent her an e-mail, yet I knew I wouldn't receive a reply until the following week because it was late Friday afternoon. I waited anxiously all weekend.
When Monday came around I checked my e-mail about 20 times before I received a reply in the late afternoon. My contact person said, "I will gladly take some photos and e-mail them to you this week." I was thrilled to receive this reply. I knew that these pictures were going to make a world of difference for my grandfather. I must have checked my e-mail one hundred times after that.
It was late Thursday afternoon, June 28, 2007, when I received the long awaited e-mail. There were three pictures attached. One was a panoramic view (aerial view) of the cemetery taken on Memorial Day, one was the row where Nelson Lewis was laid to rest in Section D of the cemetery and the other was Nelson Lewis' headstone that reads, "Nelson Lewis, Arizona, PFC Infantry, World War II, October 16, 1921 - March 17, 1945."
As I sat there and stared at the pictures my heart sank and tears started coming down. It was an emotional moment for me. I knew that these pictures were going to make a difference for my grandfather. We all know that pictures can say a thousand words. I e-mailed my contact person back and told her that I am forever indebted to her.
Right away I picked up the phone and called my mother, then my grandfather to share the news of the pictures. I was hundreds of miles away from home so I could not share the pictures right away. I tried to explain the best I could what the pictures looked like. My grandfather was surprised and happy. He said at last he could see the pictures and actually get a glimpse of where his brother was laid to rest. I told him I would be home as soon as possible to show him the pictures.
I asked him if he had any pictures of his brother, he said, "I only have one picture and that is the only thing I have left of Nelson Lewis. I will show it to you when you come home." He managed to salvage a 5 x 7-inch picture by lending it to a family member days before the house fire. I was so excited, because I had never seen a photo of Nelson Lewis before; even if I did when I was younger I could not recall.
The first week of July 2007, I had three days off from work. I knew that I was going to head back to Dennehotso. I started traveling home on Tuesday afternoon, July 3, 2007, after a few hours of rest. I could not wait to get home. It seemed thousands of miles away. It was late when I got back to my mother's residence and I knew my grandparents were asleep.
On Wednesday morning, July 4 (Independence Day) I could not wait any longer. My nephews and I went to my grandparents' house. To my surprise they were both home; usually they would be long gone, out and about. I took in the folder I had with all the information I found on the Internet, along with the pictures I had gotten by e-mail. We went inside and greeted everyone that was there. I sat for a moment and then told my grandfather I brought the information and the pictures of his brother's grave. I threw caution to the wind, not thinking how this would affect him.
My grandfather looked at the pictures. At first he was delighted to see such pictures and he said, "So this is what it looks like." He sat there for a moment in silence and looked at the pictures. He said, "It's beautiful. I have waited all these years for this. Thank you."
Then without saying a word he got up and headed for his bedroom. I did not see the tears, but something told me to follow him. My cousin Nicole and I started to follow him. I said, "Grandpa, grandpa, wait!" As he stopped and turned I saw the tears. I have not seen my grandfather cry in years. It was an emotional moment for him. Sixty-two years, three months and seventeen days had passed since his brother died, but it was obvious the pain was still there. We all hugged each other and cried together. I told him it was okay for him to cry, okay for him to talk about his brother and okay for him to tell us about him even though we never met him.
He went to his room to retrieve what he had left of his brother, the one picture he had of Nelson Lewis. He brought out a wooden case. The case contained the folded flag my grandparents received when my Aunt Linda, who also served in the Army, had passed away in April of 1993. The case was just large enough to hold the nicely folded flag. My grandfather sat down and opened the wooden case. He dug around underneath the folded flag and pulled out a 5 x 7-inch picture.
I saw Nelson Lewis for the first time. The picture was taken while he was in the Army. He was in uniform. What a handsome young man, I thought. He had a beautiful smile and had the same nose as my grandfather's. I sat there for a moment and admired the picture.
I asked my grandfather if I could take the picture so I could get more copies made, and he agreed. This is the only thing he has left of his brother and he trusts me with it, I thought. I will guard it with my life. I assured him he would get the picture back. We visited for a while longer, then decided to leave. Before we left I invited my grandparents to a barbeque at my mother's residence later on that afternoon around 4 p.m.
It was a hot afternoon, with very few clouds in the sky; the hot summer sun was definitely making its appearance. At exactly 4 p.m. the food was ready. My grandparents had arrived minutes earlier and everyone we invited was there, which was only a very small percentage of our family. My oldest sister, Carmelia, asked me if I could share the story about what I have learned about Nelson Lewis. I agreed. I shared the story with everyone who was present. My grandfather volunteered himself to give us a little bit of insight to what happened back then, how he and his brother Nelson Lewis ended up with two different last names.
My grandfather spoke to us as he sat there under the tree, next to my grandmother. My grandfather said that until the day Nelson Lewis was being transported off to school in Shiprock, N.M., all they both had were Navajo names. Nelson Lewis' name was Yil deeya. Their aunts who spoke English helped give Nelson Lewis his English name. A few years later when my grandfather was going to start school at the newly opened boarding school in our community, he was given an English name. Up until that day his name was Yil naagha. He was given the name, John Tsosie, because his stepfather's name was Hosteen Tsosie Begay.
My grandfather got all choked up as he spoke of his brother. What my grandfather shared with us on this day was brief, yet a lot for us to absorb. He also thanked me for finding the information and especially the pictures.
More like this story