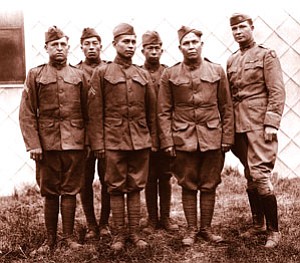 Originally Published: September 5, 2007 8:41 p.m.
POLACCA-In honor of the 11 Hopi code talkers who served during World War I and World War II, the Smithsonian Institution Traveling Exhibition Services' (SITES) Native American Code Talker Exhibit entitled Native Words, Native Warriors will be featured on the Hopi Reservation.
The exhibit will be open to the public from Sept. 10 to Oct. 30 in the Hopi Health Care Center (HHCC) lobby.
Although members of the Navajo tribe are the most well-known and largest group of code talkers, members of as many as 18 other tribes served as code talkers during World War I and World War II.
The exhibit focuses on those who served as a part of the Navajo Code Talker Program established by the U.S. Marine Corps in September 1942.
Members of the Hopi, Comanche, Choctaw, Chippewa/Oneida, Menominee, Sac and Fox, Sioux, Crow, Mississauga, and Cree tribes were a part of this program.
Native code talkers served as communication specialists during both world wars.
Their roles were to send messages in codes derived from their native languages regarding troop movements, enemy positions, and other crucial battlefield information.
Some code talkers translated messages from English into their Native languages. Once the message reached its destination, another code talker would be waiting to decipher it. Others, like the Hopi and Navajo soldiers, created a unique code using their Native languages that was then used during combat to relay messages.
It was not until the Navajo Code Talker Program was declassified by the United States government in 1968 that the modern-day warriors were able to share their experiences with family and friends, and that recognition for their service became possible.
To date, national recognition has only been achieved by the Comanche code talkers, who received the Chevalier of the National Order of Merit for their service from the French government, and the Navajo code talkers, who received Congressional Medals from the American government.
The presence of the exhibit at HHCC provides a unique and long overdue opportunity for community members, families, and veterans alike to give tribute to the Hopi code talkers who served to protect their nation, culture, and homeland.
In order to bring the exhibit to Hopi, SITES has collaborated with HHCC, Hopi Post 80, the Department of Veteran Affairs, the Hopi Guidance Center's Hopi Veteran Affairs Office, and the Hopi Museum.
Any questions regarding the exhibit can be directed to Lisa Lomavaya, HHCC Volunteer Coordinator and exhibit facilitator at (928) 737-6385.