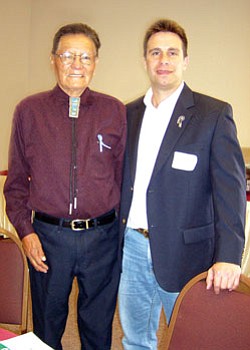 Originally Published: September 5, 2007 7:36 p.m.
FLAGSTAFF-Last week the Diné Hataalii Association, a prestigious association of more than 300 Navajo medicine men and women, issued a unanimous resolution of support for Howard Shanker's bid for Congress in Arizona's Congressional District 1. Importantly, this is the first time that the Diné Hataalii Association has ever endorsed a congressional candidate and signals the success Shanker has gained in attracting bipartisan support from many facets of the Navajo Nation.
Shanker worked closely with a number of Navajo medicine men and women, including Anthony Lee, president of the Diné Hataalii Association, in preparing the defense for the San Francisco Peaks litigation. The San Francisco Peaks is one of the four sacred mountains to the Navajo and a site considered holy by many other tribes as well. Lee lauded Shanker by saying, "Howard has represented the Diné Hataalii Association in maintaining a strong legal and positional stance in both the lower and upper level courts and, as a result the Ninth Circuit Court of Appeals in San Francisco, has ruled in favor of not only the Diné Hataalii Association but also the Navajo Nation and the thirteen Arizona tribes."
According to Shanker, "I consider the Diné Hataalii Association's show of support to be a great honor. I have learned a tremendous amount from traditional Navajo practitioners over the years and intend to follow many of their guiding principles once I am in Congress."
To learn more about Howard Shanker or to view a copy of the resolution, go to www.HowardShankerForCongress.com. You can also get campaign news at
www.myspace.com/HowardShanker.