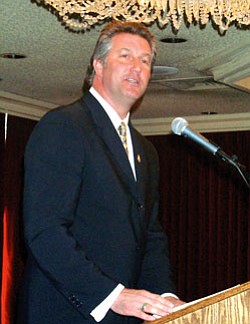 Originally Published: September 5, 2007 12:36 p.m.
FLAGSTAFF-Rep. Rick Renzi (R-Ariz.) issued a statement on Aug. 23 that he will not seek re-election in 2008, ending months of speculation regarding the ethically-clouded Congressman's political future.
In his statement, Renzi said, "I will not be seeking re-election to the U.S. House of Representatives in 2008. I am honored and thankful to serve Arizona's first district and appreciate all that we have accomplished together over the past six years."
Renzi's retirement announcement adds to a list of GOP members planning to depart upon the conclusion of the 110th Congress, including Reps. Ray LaHood (Ill.), Deborah Pryce (Ohio) and Chip Pickering (Miss.), as well as former Speaker and Rep. Dennis Hastert (Ill.).
But while some of those retirements and the open seats they are creating could cause problems for the Republicans' hopes of recapturing the majority, Renzi's departure could help the GOP by allowing them to nominate a replacement that is free of the ethical baggage that appears to have plagued the Congressman's future.
Democratic candidate and former Arizona State Representative Ann Kirkpatrick, a lifelong resident of Arizona's first Congressional district stated, "Like a lot of people in the district, I am relieved because [Congressman Renzi] hasn't been able to represent us for some time and it's time that we are represented by one of our own. It's why I'm running."
Another Democratic candidate, Phoenix-based attorney Howard Shanker stated, "The district certainly deserves a representative whose agenda consists of doing what he thinks is best for the district and the country as opposed to maximizing personal gain."
Renzi staved off a spirited challenge from his Democratic challenger last cycle, but saw his political fortunes plummet following an FBI raid of a business connected to his family as part of a federal probe into his dealings as a Congressman.
"Whether or not he is indicted or has to step down early remains to be seen," Shanker commented.
Renzi has not admitted to any wrongdoing. An investigation could imperil any re-election bid, and possibly result in him facing multiple primary challengers.
"This is one of the reasons why I am running to take Renzi's seat [in Congress]," Shanker said.