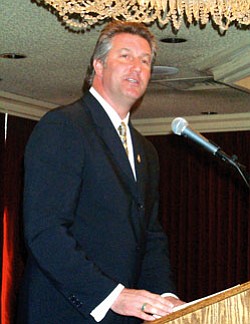 Originally Published: September 5, 2007 12:39 p.m.
Environmentalists looking at U.S. Rep. Rick Renzi's record may be confused as some national environmental groups give him a terrible rating while some local environmental groups say they are impressed with his protection of local sites. Tiernan Sittenfeld, legislative director for the League of Conservation Voters in Washington, D.C., said Renzi has a terrible rating on national environmental issues. The LCV ranks members of Congress on environmental issues. Renzi has a 7 percent score since entering Congress and 3 percent for last year's session.
Environmental scores for others in the Arizona congressional delegation show Sen. John McCain with 41 percent, Sen. Jon Kyl with 11 percent, Rep. Raul Grijalva with 100 percent and Rep. Ed Pastor with 92 percent. Sittenfeld said Renzi seems more concerned with the oil and gas industry rather than his constituents. She points to Renzi's votes against clean air, clean water and global warming.
Sittenfeld said in 2005 Renzi voted against clean air when he voted for the Gasoline for America's Security Act of 2005. She said his vote gave unnecessary extensions for cleanups.
"This put people's health at risk and delayed the use of cleaner fuels," she said.
Sittenfeld said in 2006 Rep. Renzi voted against an amendment to the Interior's appropriations bill to protect clean water across the country. This bill would have forced the EPA to rescind a directive that stated that clean water rules shouldn't apply to small bodies of water. She noted that the bill passed overwhelmingly with Republican support. Sittenfeld said Rep. Renzi voted to lift the moratorium on drilling off the east and west coasts perpetuating America's dependence on oil and putting ecosystems at risk. Sittenfeld said LCV is a bipartisan organization that works for clean air, clean water and a safe future.
Renzi declined to address the specific criticisms of him that LCV has on its record, but he does not believe it is a fair, balanced assessment of his environmental record.
"The League of Conservation Voters has its own opinion. It doesn't show how much I care about the environment," he said. "They don't look at how hard the Natural Resources Committee works at preserving Fossil Creek and other areas important to Arizona. A lot of our efforts are outside of their scoring."
Aside from working to preserve Fossil Creek, Renzi said he has helped increase the budget for the Grand Canyon, fought to expand Petrified National Forest and worked on helping preserve other important places in Arizona.
"I've tried to bring a balanced approach. I'm an outdoors person," he said.
Jason Williams, regional director for the Central Mountain Sonoran Region for the Arizona Wilderness Coalition, can't praise Rep. Renzi enough for the congressman's role in seeking to designate Fossil Creek as a wild and scenic river.
This designation would give protection to the special site.
"Rep. Renzi was spectacular. He stepped up in the House," he said.
Williams said all but two in the Arizona delegation supported the measure-and he credits Renzi for that leadership.
"Rep. Renzi was good working with the congressional delegation," he said.
Williams said the measure was proposed too late last year, but he hopes it will pass this summer. He urges those interested in protecting Fossil Creek to contact Renzi and others in the Arizona congressional delegation to voice their support.
"Often thanks will go a long way, and we want to urge him to do what it takes to get the bill passed," he said.
Renzi said the bill to preserve Fossil Creek should be heard this summer.
"Both Republicans and Democrats support it. I've hiked down there and it's phenomenal. It's a pristine jewel that needs to be protected," he said.
Williams also praises Renzi for supporting better funding for the National Landscape Conservation System and sent out an e-mail to AWC members calling for them to thank the congressman. The NLCS is part of the Bureau of Land Management system. The White House proposed a $49 million budget for the NLCS, which would have been the lowest level since it had been established. Renzi said that funds are needed to ensure these lands are protected, so that these extraordinary places are not ruined by neglect.
"This will help preserve important riparian areas in Arizona. It will also help protect sites with Native American artifacts," he said.
Williams said Renzi's support for increasing funding for NLCS is tremendous.
"He wants to see this land protected and that makes him a tremendous asset. He cares about public lands," he said. "It's inspiring to see that this is a bipartisan issue."
Quinn McKew, director of River Heritage with American Rivers, gives Renzi high marks for the same reasons as Williams. She said Renzi has been a great leader for seeking the Wild and Scenic designation for Fossil Creek, noting that he was one who introduced the bill in the House both last year and this year.
"Rep. Renzi is a champion for Fossil Creek," she said. McKew said American Rivers is also concerned about the NLCS budget and gives Renzi credit for supporting an increase in that budget.
"He's been really good to work with on NLCS and Fossil Creek. Renzi is trying to look out for special areas in Arizona," she said.
Dan Campbell, Verde River Program Manager for the Nature Conservancy, said he knows that nationally Renzi is not thought of favorably on environmental issues, but praises Renzi for seeking more protection of the Verde River and the Upper San Pedro River. Renzi helped take an alfalfa field out of production that was using 4,000 acre feet of water per year from the San Pedro. He said it is important to preserve the San Pedro River because it is a greenway for endangered species and it is one of the best ecotourism destinations in the Southwest along with Ramsey Canyon. Campbell noted that U.S. Sen. John McCain has always been supportive of protecting Arizona's rivers and feels Renzi might be following in his shoes.
Tom Flabeck, Prescott area spokesman for the Sierra Club, isn't buying it. He criticizes Renzi for his stance on forests, Bella Terra subdivision and thinks Renzi is a Johnny-come-lately on some environmental issues.
Renzi responds that the Bella Terra subdivision issue is a state issue that the Arizona Department of Environmental Quality is regulating. Flabeck said Renzi supported a so-called Healthy Forest Initiative that was supposed to prevent forest fires and create healthy forests.
"But under the guise of healthy forests they have started thinning far away from anything," he said. Flabeck said thinning was supposed to be by cities to keep them from burning, but added that forests have been thinned on the North Rim of the Grand Canyon. "They're going after big trees in Prescott National Forest, the Kaibab and elsewhere," he said.
Renzi said the Healthy Forest Initiative focuses on small growth trees, but that some middle sized trees need to be included to make the timber sales profitable or companies would not bid for the sales. He said he is against the cutting of large growth trees. He added that the HFI should get more funding for prevention and thinning to prevent fires. Flabeck said he has recently written Renzi three times about the Bella Terra subdivision in Oak Creek because it would impact Red Rock Crossing.
"We want to shut it down because of the impact on Oak Creek," he said.
Flabeck said Renzi has yet to respond on this issue; however, he credits Renzi with responding to his calls for not allowing off-shore drilling. But, he said, Renzi avoided the question only noting that he drives a hybrid Prius. Renzi said he was at the proposed drilling site in Alaska and met with 450 Indigenous people; only two were opposed to the drilling. He said if there are proven reserves and the best equipment can be used without oil spills then it has to be considered to help lower energy dependence on other countries.
"I'm worried because 60 percent of our oil comes from foreign countries," he said.
But Renzi emphasized that "this is not an absolute solution" to America's energy problems.
Flabeck said Renzi has only started to see the environmental light since the last election.
"He sees the writing on the wall for his previous unpopular environmental stances," Flabeck said. "He's trying to look green because it's politically practical.
Steve Kling, president of the Verde River Citizens Alliance, had the same analysis that Renzi did not have a strong environmental record before the past election. A recent Renzi flier focuses on Renzi's support of Fossil Creek and solar power.
"I was pleased to receive the mailer. It shows the environmental groups are having an impact and Renzi is going green," he said.
Renzi said he supports and promotes solar and wind power projects for residential use in the district. Williams said locally Renzi is good on the environment, jobs and Native American issues. He noted that he disagrees with Renzi on some issues such as arctic drilling and endangered species protection.
"We don't talk about what we disagree on, but about what we agree on," he said.
Renzi said reasonable people believe the Endangered Species Act can be improved to save more species and to cut through the bureaucracy.
"Both Republicans and Democrats are coming together on this. This can be fixed. It can be refined, but I don't think it will happen this session," he said.
Williams noted that AWC never endorses candidates.
Rep. Renzi has also sponsored a bill to protect Walnut Canyon, an area special to the Navajo and Hopi tribes. He continues to work with the city of Flagstaff and Coconino County on a bill that would study to see how Walnut Canyon and the area around it should be managed.
Renzi said there is a bipartisan effort to expand Walnut Canyon and protect the watershed there as well as the many artifacts in Walnut Canyon.
Sittenfeld said there aren't too many congressmen who have low national environmental scores, but are found to protect many sites in their own district.
"I'm glad to hear he's a better steward in his own district," she said. Sittenfeld credits Rep. Renzi with supporting better funding for National Landscape Conservation System.