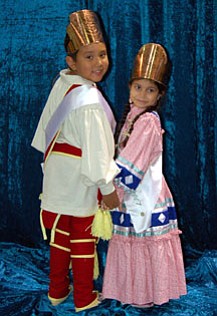 Originally Published: September 5, 2007 8:55 p.m.
TAHLEQUAH, OKLA. - The Cherokee Nation recently held the Little Miss and Mister Cherokee Competition. The event, a crowd-pleaser that is intended to encourage the cultural identity of the youngest Cherokee citizens, was held in conjunction with the 55th Annual Cherokee National Holiday.
"It's a lot of fun to watch these young Cherokees participate in this event," said Chad Smith, Principal Chief of the Cherokee Nation. "The Cherokee Nation is proud of the accomplishments of each of these individuals. It is our young people who will lead our citizens and our government into the future."
Contestants were judged on traditional dress, a Cherokee history, traditions and cultural knowledge interview, plus poise and personality. Contestants were divided into four age categories: first division, ages 4-5, second division, ages 6-7, third division, ages 8-10 and fourth division, ages 11-13.
The winner of the first division Little Miss Cherokee Competition was Sinihele Rhodes. The first runner-up was Lauryn McCoy and Darsi Woolard was the second runner-up. First division Little Mister Cherokee winner was Rhett Welch.
"I am so proud of all of our young Cherokee boys and girls who took part in this competition," said Joyce Bunch, event coordinator. "Every year this event gets better and better. It's great to see so many young people take part in a competition that highlights the heritage and culture of the Cherokee Nation."
The Cherokee National Holiday has been held since 1953 in tribute of the signing of the 1839 Cherokee Constitution. It has grown into one of the largest events in Oklahoma, attracting more than 90,000 visitors from across the world.
This year's theme is "Common Values, Common Ground," in commemoration of the 169 years of rich history the Cherokee Nation has in what is now Oklahoma, and the 100th anniversary of Oklahoma's statehood.
"This theme is a tribute to the partnership that exists between the Cherokee Nation and the great state of Oklahoma." said Chad Smith, Principal Chief of the Cherokee Nation. "This year's theme of 'Common Values, Common Ground' reiterates the importance of the continuation of this relationship for the betterment of Cherokee citizens and our Oklahoma neighbors."