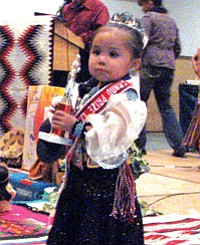 Originally Published: October 30, 2007 5:42 p.m.
Talk about cute, talk about adorable, talk about a hands-down winner!
Jaycelyn Jean Tallsalt, the 2-year-old daughter of Sharlimar and Michael Tallsalt, won this year's Western Navajo Agency Fair Baby Contest.
Baby Tallsalt is from the Tangle Clan (Navajo) born for Bamboo (Hopi Clan). Her maternal grandfather's clan is Towering House and her paternal grandfather's are of the Mexican People Clan.
Tallsalt won this award by correctly reciting her ABCs, identifying her parents, her grandmothers and aunts in Navajo and surprising the audience by demonstrating a full on "karate kick."
Tallsalt will hold her baby title until next year's Western Agency Fair in October 2008.