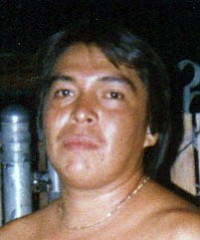 Originally Published: October 24, 2007 12:32 p.m.
Ruben Tsosie Lefthand of Flagstaff died Oct. 13 in Phoenix. He was 42 years old and was born in Tuba City in 1965. He graduated from Flagstaff High School in 1984 and was a carpenter in Phoenix and California.
He is survived by his mother, Ellen Lee Lefthand of Flagstaff, five siblings: Cato Lee Lefthand of Flagstaff, Keedo Lee Lefthand of Phoenix, Nathan John Lefthand of Monterey, Calif., Roderick Jonathon Begay-Lefthand of Flagstaff and his son Sequoia Lefthand, Clarita Marie Begay and her spouse William Stein of Seattle, Wash., Roger Neil Begay and his spouse Ambar Mora and their son Luca Johan Begay of Seattle, Wash., and step-father Roger Nez Begay. He resided in Phoenix with his companion Rose Joe and her son Ron Lomahaftewa.
His extended family included his grandmother, Clara Savage of Tonalea; his aunts Rena Maize and family from Tonalea; Zonnie Savage and her family from Tonalea; and Sarah Riggs and her family from Round Cedar.
He was preceded in death by his father Tsosie Lefthand of Coal Mine.
The Lefthand family appreciates everyone's prayers and love. For those who wish to support with monetary donations, a fund has been set up at Bank of America under the Ruben Lefthand Memorial Fund.
Funeral services were held Monday, Oct. 22 at Mountain Top Assembly of God Church in Flagstaff. Burial was at Citizens Cemetery in Flagstaff. Arrangements were under the direction of Norvel Owens Mortuary. Condolences can be sent to the family at www.norvelowensmortuary.com.
More like this story