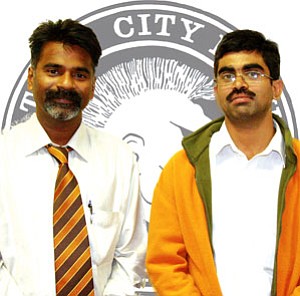 Originally Published: October 17, 2007 1:37 p.m.
TUBA CITY-It's no secret that algebra, trigonometry and calculus are studies that originated in India.
The place value system as well as the decimal system were also developed in India around 100 B.C.
Sanskrit, which is considered the mother of all higher languages because of its intricate precision is the official language of India.
It is known in Indian culture as Bharat and is the base of what is considered "suitable" language for computer software according to the July 1987 issue of Forbes Magazine.
So it makes perfect sense that Tuba City District would hire two outstanding math teachers from India for their highly challenging academic math program at TC High.
The math department at TC High has several math teachers who have been distinguished in Who's Who in American Teachers. The department is currently headed by noted math teacher RayeLynn McCabe.
Dubey and Agarwal, both armed with graduate degrees in math from Madurai Kamaraj University in India and Meerut University have extensive experience in teaching math to high school-aged students.
They have taught in classrooms with as many as 50 students in each setting. Both, however, are new to the U.S. and had only a brief stay in Newark, N.J. before catching a flight to Phoenix and then traveling to Tuba City to start their new work as teachers Sept. 26.
According to the new teachers it has been a bit of culture shock to travel from India to New York to Phoenix and finally to the heart of the rez.
But they are fitting in nicely and organizing their classroom syllabus, finding furniture for their new district housing assignments, trying new foods and understanding local Native customs.
They have had to learn the names of almost 500 other TCUSD staff members and almost 900 high school students and are pretty busy getting into the daily grind of life on the rez.
Because India has such a long celebrated history with math development since the 11th century, Dubey and Agarwal are finding that TC High students need follow-up work with basic applications of math operations. Their work with students in ending any current math phobias that could hinder higher math education.
While neither have worked with Native Americans or minority students other than their own Indian people, they are looking forward to the challenge of being in a reservation area and are thrilled to be in what is considered the "metro-hub" of the northern reservation area.
They said they have enjoyed watching American football on local cable TV and are getting used to hearing the howling winds in Tuba City.
Dubey and Agarwal are anxious to try more Native food and have been jokingly warned by fellow TC teachers that it will be "lamb and mutton prepared without Indian curry."
However, they say they are looking forward to it anyway.