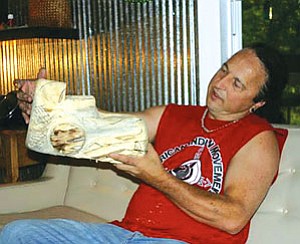 Originally Published: October 9, 2007 5:10 p.m.
TAHLEQUAH, OKLA. - In recognition of his dedication to Cherokee art, Roger Cain was selected as the 2007 Cherokee National Treasure Award recipient.
"The Cherokee Nation is proud to recognize artists like Roger Cain for the contributions that he and other artists and historians make toward the continued existence and preservation of Cherokee art forms," said Chad Smith, Principal Chief of the Cherokee Nation. "Aside from contributing to Cherokee art, he works to preserve the culture and history of the Cherokee people. He is active in his community and gives presentations, lectures and discussions within the school systems about issues pertaining to Cherokee life. I congratulate Mr. Cain for all of his accomplishments and commend him for giving to the Cherokee people through art and service."
Cain is the son of Florene Christie Batt, of Adair County, and the grandson of Agnes Christie Pumpkin, George Pumpkin and Richard Batt. Raised with the customs and traditions of his Cherokee ancestors, Cain has always embraced the wisdom of his family.
"Growing up with strong leaders and advocates of the Cherokee people and their ways, I've been greatly influenced by my family members to truly study and learn all that I can about Cherokee people through historic documents and more importantly through the knowledge of Cherokee elders."
Cain's art work is closely intertwined to his beliefs and the knowledge passed down to him by his grandparents. Today, Roger best defines his art as contemporary traditionalism. His primary interest as an artist lies at the heart of the environment. Closely connected to the world around him, Roger's work is encompassed by elements produced only by nature and time. His fondness for the woodland areas around his home motivates his artistic endeavors, especially in the re-creation of time-honored cultural items made and used by his ancestors.
"I am very dedicated to researching, learning and carrying on the artistic heritage of my ancestors," said Cain. "However, I do utilize mediums and creative techniques from both the natural and contemporary world. In my artwork I strive to incorporate traditionalism and ancient art forms originating from early Southeastern mound builder societies and early historic Cherokee society."
Cain is primarily known as a mask maker, yet all of his artistic creations amplify traditional Cherokee craftsmanship and include stone pipe carvings, hickory ball sticks, blowguns, dart guns and chunkey stones. Categorizing his works is difficult, but most distinguish it as carvings and sculpture. Regardless of the medium or classification, all of his works incorporate natural materials and the seasons of time.
"Most people don't realize the time involved in the art that I create," said Cain. "For instance, there are certain times of the year when I pick specific berries for the color they produce to make dye for mine and my wife's artwork. I rely upon the Earth for my materials and I make it a habit never to take more than I need. But it is a process, and one that cannot be rushed."
The designation of Cherokee men and women as a Master Craftsperson developed in 1988 as a result of the Lost Arts Project. The mission that created the project remains today for the preservation and revival of Cherokee cultural practices that could be lost in the passage from one generation to another. Through the dedication and commitment of artists like Cain, traditional Cherokee art will continue to prosper and will continue to exist for future generations of Cherokees and art-lovers to come.
The Cherokee National Treasure Award recognizes Cherokee men and women who have exceptional familiarity with Cherokee art forms, such as basketry, bow-making, wood and stone carving, gig making and flint knapping. In order to identify the many talented individuals among the Cherokee people, the Cherokee National Treasure Committee has expanded the categories to include language, graphic arts and contemporary arts and music.
"To young artists, I say press on," said Cain. "I would encourage them to constantly study and learn and never give up. Enter art contests, regardless of the end result. That is how we evolve as artists. I am honored to be considered a Cherokee National Treasure, but it didn't happen over night. After 19 years I am still learning and my art is still developing."
More like this story