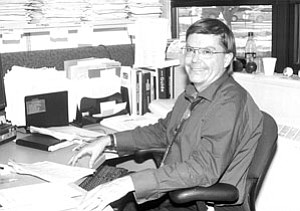 Originally Published: October 2, 2007 6:12 p.m.
TUBA CITY-The Tuba City Regional Health Care Corporation (TCRHCC) received official notification from the Joint Commission on Accreditation of Healthcare Organizations (The Joint Commission), that the TCRHCC hospital and its laboratory have both been granted "Accredited" status.
The Joint Commission, through agreement with the Centers for Medicare and Medicaid Services (CMS), accredits approximately 16,000 health treatment facilities within the United States, and additional overseas facilities as well.
The types of facilities they accredit include hospitals, ambulatory care facilities, long term care treatment facilities, home health care centers, behavioral health facilities and laboratories.
Accreditation by the Joint Commission, a non-profit organization, is voluntary. Health treatment facilities that choose to participate in the Joint Commission's accreditation program agree to comply with literally hundreds of standards published by the Joint Commission that focus on patient safety and quality improvement.
The TCRHCC hospital was last surveyed by the Joint Commission on March 27-29, and the hospital's laboratory (accredited separately), was last surveyed on May 10-11.
During these surveys, the surveyors verify that the organization's documentation and processes comply with Joint Commission standards through several means, including interviews with individual staff members and hospital teams, review of documents such as policies and procedures and patient records, and by observation of building conditions and staff practices.
When the survey is completed, there is no overall score assigned. The Joint Commission, based in Chicago, reviews the surveyor's findings and renders a final survey decision. The only potential outcomes are "Accredited," "Conditional Accreditation," or "Denial of Accreditation" status.
The Joint Commission officially notified TCRHCC by letter dated Aug. 3 that the laboratory was granted "Accredited" status, and by letter dated Sept. 7, they notified TCRHCC that the hospital itself had been granted accreditation.
The TCRHCC hospital was granted accreditation for a full three-year period, and the laboratory was granted a full two-year accreditation (Laboratories can only be granted "Accredited" status for two-year intervals.)
Regarding the survey results, Joseph T. Engelken, TCRHCC Chief Executive Officer said, "This confirms TCRHCC's organization-wide commitment to patient safety and the provision of quality care."
He noted this is nothing new for TCRHCC, and added "I am proud to say that the organization has been accredited by the Joint Commission for more than 30 consecutive years." He stated that accreditation is important to TCRHCC because it enhances their reputation within the greater community. It also helps with feedback on TCRHCC's daily operations and systems.
Engelken said the Joint Commission notifications were in addition to another very positive piece of correspondence recently received by the hospital.
He pointed out that TCRHCC receives its blood and blood products from United Blood Services, Inc. (UBS). This relationship mandates that UBS conduct annual inspections of our facility for compliance with blood handling and storage requirements of the Code of Federal Regulations and AABB.
He said the UBS performed their annual inspection of TCRHCC on Aug. 22, and TCRHCC just received a letter from them stating that, "No deficiencies were observed during the inspection. UBS commends your facility for maintaining such high standards."
Upon receipt of the official notification of Joint Commission survey results, Engelken, thanked the staff stating, "I would like to again acknowledge how hard everyone has worked to ensure the delivery of quality patient care, and to support this organization in a myriad of other ways. Your good work has resulted in our continued accreditation and I appreciate all that you do. Congratulations on this latest significant achievement."